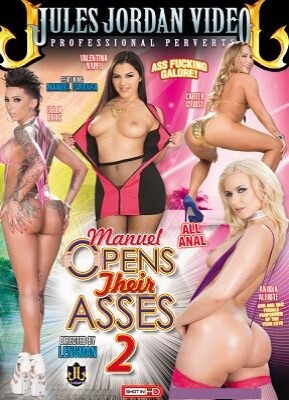 In this superb gonzo from Jules Jordan Video, Frenchman Manuel Ferrara not only opens the asses of four sizzling young females, but also fills their assHOLES with his uncut, oversized baguette; separately, that is, for — wondrous and illustrious as he is — our man Manny does not possess (contrary to popular belief) a four-headed cock. By the way, a good sign of a good porno is when you can't decide which girl you'd fuck — in the real world — if actually given the choice, seeing as each girl featured here is a truly comely cunt — with great butt cheeks and gloriously gaping backsides — whom you'd love to bang all night long. Wow!

And we start strong, indeed, with Italian babe Valentina Nappi, who may present the most intense of all the Ferrara fucks here. And I didn't realize until now what a awesome set of breasts this vixen possesses. Amazing. She also gives 150 percent of her mouth (great deepthroater, while she also at times hungrily eats Ferrara's farts), vadge (Manny pounds it, Nappi loves it), and anus (she's a great gaper, indeed, with a truly succulent pair of ass cheeks).

The always-welcome Carter Cruise probably delivers the noisiest of all of the fucks, seeing as she's constantly blabbering, but check out how her eyes cross (yikes!) as Ferrara furiously fills up her fart factory, while her eyes also seem to uncontrollably water; could it be Manny's potent cologne?…or perhaps his lack of any form of antiperspirant? Powerful stuff — the Cruise cramming, not Manny's musk. And when Manny and Carter start simultaneously, incomprehensibly mumbling face-to-face, it's both surreal and hilarious.

Next we have probably one of the most amazing asses you'll see in porn today, attached to a pleasantly quiet gal (from Georgia, of all places, seeing as she looks so European), Bella Bellz (great alliteration but not the most clever of noms de smut), and, while she might not be the best cocksucker of our quartet of girls, Bella is great with her twat and tukus, really jiggling and jangling those hypnotically gorgeous, pronounced, and all-around juicy butt muffins. And the fact that Bella's ass cheeks themselves are partially tattooed would NOT stop any of us guys from fucking the living shit outta her. Love the New Wave haircut, too. On Bella, not Manny.

And, finally, we have the ASS-tonishing Anikka Albrite who, as always, sports that killer fair-skinned body, with terrific tits and fab fanny; and while her fuck scene seems, oddly enough, much shorter than that of her predecessors, it's still a grand filling, with Albrite being as passionate, willing, and happy to get hammered as ever.

Outstandingly shot by Lensman (sounds like a brand of sunglasses, dunnit?), "Manuel Opens Their Asses 2," from Jules Jordan Video, is definitely for fans (aren't we all?) of sexy babes with great backsides taking it up the sphincter. A must-have title.
Synopsis:
Anikka Albrite AVN and Xbiz Female Performer of the Year 2015! Ass fucking galore! All anal!
DVD Features:
• Shot in HD
• Cumshot Recap
• Photo Gallery
• Multiple Chapter Stops
• Playable Worldwide
Runtime (Stream, Download): 156 minutes