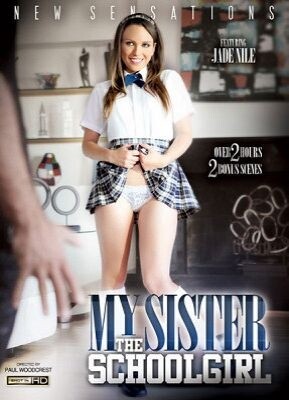 It's nice that companies like New Sensations are taking a chance with taboo material, of which "My Sister the Schoolgirl" (MSTS) is a superb example, with four different girls each getting a shot at playing the title role and fucking their fictionalized stepbrothers; with all the young ladies having some horny attributes to offer, particularly Jade Nile and Charli Acacia.

The movie begins with Sara Luvv, who most certainly humps her stepbro (James Deen) with great fervor. One interesting note, by the way: It's never really explained if the girls in MSTS are seniors in high school or freshmen in college. Hmmm… We like it. We like it!

Next, Ariana Grand is definitely a step up (pun intended), as her stepbrother (Erik Everhard) tells Grand what a fetish he used to have for schoolgirl outfits, while helping sis dress into her uniform — before, that is, he helps her OUT of her sexy threads and the two randy pigs have at it, with Ariana Grand presenting another high-octane boff — and her juicy butt cheeks really shining, as(s) well.

But the best girl of the lot, in terms of looks and attitude, is Jade Nile. In Jade's scenario, her stepbrother (Chad White) asks her advice about getting a particular girl's attention. Only too happy to help, Jade starts by showing Chad how to touch a girl. "Kinda weird — my stepsister showing me how to pick up chicks," he nervously jokes. Actually, this seduction scene is the most realistic in the entire movie, with Chad showing some true acting talent — and Jade being simply irresistible. "No one has to know," she alluringly tells him, hungrily clutching his dick beneath his jeans. "I'll teach you everything you wanna know. I'll teach you real good." This girl is amazing. She's so intensely seductive. And, aside from having a deadly body and uniquely beautiful face, Jade really gets into the sex, offering constant eye contact with Chad. We want to see more of this beauty!

Lastly, Charli Acacia is the most submissive of all four of ladies, as well as incredibly passionate in her own alluring way. Dispensing with any preamble, her stepbrother (Brick Danger) just goes for it, as Charli is putting some books on a shelf. Acacia seems reticent about the whole thing, as if ashamed, making the coupling all the more of a turn-on. She's also the best cock-choker of all of the girls, with a luscious ass and a great set of little tits. "You're so deep in my pussy," she gasps at one point, nearly crying with ecstasy. She also says "Oh my God" about 100 times. Yes, you believe her when she says it. Still, don't say we haven't warned you.

New Sensations does an excellent job in terms of titillating our taboo desires with stepsibling sex in "My Sister The Schoolgirl." If you want more direct incestuous XXX fantasies, however, you'll just have to check out classic '70s and '80s porn. Happy whacking.
Synopsis:
These smoking hot schoolgirls have one thing in common - they all want to be fucked hard by their stepbrother! Join Jade Nile, Ariana Grand, Charli Acacia, and Sara Luvv as their stepbrothers drill them deep and hard. There's over 2 hrs. 10 mins. of slutty step-sibling sex, and these sexy schoolgirls just can't wait!