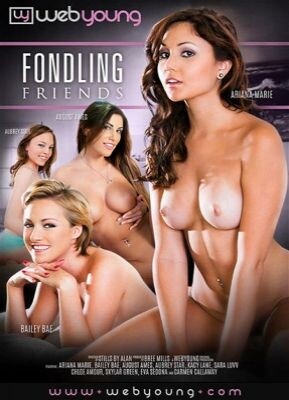 In terms of lesbian young-girl fare in 2015, it doesn't get much better than this. Thanks to a stellar cast of porn vixens that could do just about anything on camera and we'd be glued, "Fondling Friends" is likeable, watchable and strokable from the start. Combine A-plus production value that includes crystal-clear picture quality, beautiful light and attractive sets, and director Stills by Alan and Webyoung have a hit on their hands.

Each of the vignettes contains a lighthearted setup with the girlfriends playfully finding themselves in a hookup situation. In "A Budding Friendship," Sara Luvv welcomes new girl Chloe Amour at the school to the point where they 69 each other at a scenic mansion.

Another standout is the session with Aubrey Star and August Ames in which Ames seduces the newbie as she's helping her prepare for her big date.

"I didn't know you liked me like this," Star says to Ames with a giggle. "I've never been with a girl before. What do I do?"

Ames tells her, "Just stand there and enjoy it."

By the time they get on their hands and knees with asses up, you'll be hitting the showers. The finale features best friends Ariana Marie and Bailey Bae sharing a bed. The horny Bae starts touching herself while Ariana sleeps, but when Ariana wakes up, it's on. Bae breaks the ice by planting a kiss on Ariana and they take matters into their own hands from there. In a surprise ending, both girls look at the camera and reveal this fantasy came about from a submission by an anonymous fan of the Girlsway Network. "We hope we brought your fantasy to life," they say to the camera. The moment ties a fitting bow on this excellent package.
Synopsis:
At Web Young there is nothing more important to us than showing you the most beautiful petite teens experiencing their first sexual experiences with another girl. When these young ladies awaken to their desires for a close friend, the fireworks of sexual energy give them an intense first time that they will never forget. Fondling Friends is a story of five pairs of friends in five differing situations, all leading them to the moment when they realize that they have always wanted to show each other what lesbian sex is like. Whether it's meeting their new best friend among the masses of hormone hyped teens, getting ready for the party of their lives, or waking up horny with their BFF waiting in bed with them, these teens knock through barriers that most of us find constricting. Behind those barriers are passionate, enlightening feelings, and some pretty spectacular oral sex.