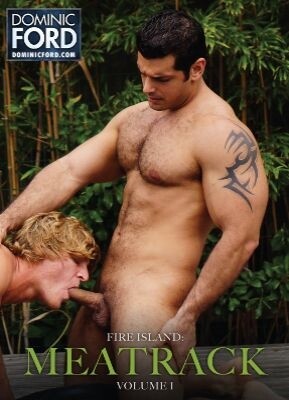 Dominic Ford has a strong brand with "So You Think You Can Fuck," and the winner of the third installment — Duncan Black — helps provide the most memorable shot in this five-scene entry set on Fire Island. With Trenton Ducati's massive bulge aching for a release in his shorts, Black gets on his knees in anticipation. A genuine, excited smile spreads across his face as the huge cock pops out in front of it, the sub opening wide —Ducati helping him along with his massive hand on the sucker's head. The alpha then fucks him hard, the top's load landing on Black's pubes.

Ducati stands out again in the opener with Kurt Von Ryder, pounding the bottom silly hard and fast in a great fuck — the sound of flesh smacking flesh filling the air. Von Ryder sits down on the top, his big dick bouncing from side to side as it slams against Ducati's tight abs (very hot!). Von Ryder shows off his versatility later, flip fucking with David Lambert — a great aerial shot capturing their two bods entwined as a rock-hard Von Ryder gets fucked from behind. JD Phoenix rubs the tight abs of hung Valentin Petrov as he gets fucked, then holds the top's hand as he comes in a great "Aww!" moment. Shaggy-haired blond Gavin Waters also fucks Marcus Ruhl by the pool.
Synopsis:
Fire Island is a sexual paradise. For decades the island has been shrouded with a sexual mystique that no other destination can claim. In this 2-part series, be a voyeur as today's hottest porn stars indulge their every carnal fantasy.