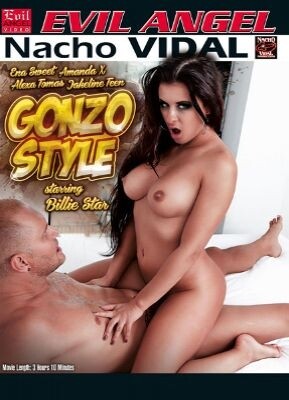 Wild, reckless and seemingly spontaneous, Spanish super-stud Nacho Vidal's latest carnal adventure contains all the elements that have made him one of porn's elite performers. He combines a killer cast of newcomers with fantastic bodies, plenty of tease, hard anal sex and his signature style of bringing the lumber for 3 hours, 10 minutes of sexual fireworks.

Vidal doesn't need some of the bells and whistles other producers may rely on to make an impression. With him, it's always been about the fucking. Calling this "Gonzo Style," Vidal stays in the spirit by soliciting blowjobs and handjobs from his co-stars in public places.

Ena Sweet drops to her knees on a city street with people and cars driving by. They move inside where Vidal shows off her heart-shaped ass before unleashing a pounding on her that she won't soon forget. Jakeline Teen flashes her tits outside in front of what looks like a historic structure before submitting to a BJ. Thirty minutes later, Vidal is balls deep in her ass.

Perhaps the breakout star of the title is Alexa Tomas, a stunning Spanish temptress who Vidal seduces inside a dressing room. Tomas later accompanies Vidal back to his place for a ball-draining session that is worth the price of admission for this show. Cover model Billie Star closes the action with a blistering anal doggie style session with our hero that puts an exclamation point on another explosive title from the excitable Spanish star.
Synopsis:
In "Gonzo Style," Spanish pornographer/madman Nacho Vidal's concealed camera captures his outdoor, public sex spectacles with hot sluts, and the action escalates when he gets these adventurous girls alone. Big-assed brunette Ena Sweet's cheeks burst from her tiny cut-offs as she strolls the sidewalk; in full daylight she kneels to suck Nacho's colossal cock as cars and pedestrians pass in the street. She gives Nacho a two-foot job and he gives her a manhandling fuck. In an historic cemetery, busty, playful Jakelyn Teen blows Nacho. She takes a stiff butt fuck and cleans his monster meat ass-to-mouth. Tattooed, pierced, statuesque Amanda X sways and crunches her broad ass as she fucks Nacho. She gasps as he sodomizes her to gaping. Longhaired hottie Alexa Tomas blows Nacho in a department store fitting room. In bed, her bouncing rear meets his piston-pounding meat. Dark-eyed, shapely Billie Star succumbs to Nacho's obnoxious advances as she gives him a ride; his huge prick seduces her into a butt fuck, and he drops his load in her hot crack.