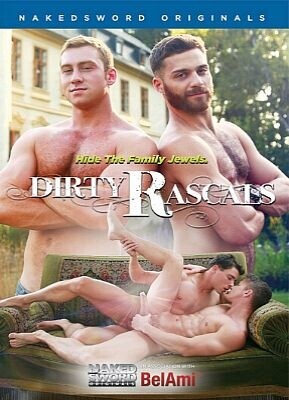 The long anticipated collaboration between NakedSword and Bel Ami comes to fruition, planting American troublemakers Connor Maguire (getting to show off a lot of personality) and Tommy Defendi (rascally as always) in Eastern Europe. The two thieves get a taste of their own medicine, forcing them to come up with a Plan B to support their trip. They arrive at the will reading of a Countess at a secluded chateau, where some gorgeous men get in the way of their nefarious plot. This is a fun and playful effort that allows everyone to have a great time being underhanded. It's also a treat to see a mix of American and European talent, with adorable Gino Mosca (more of him, please!) stealing the show as a servant who turns the table on house master Darius Ferdynand.

Defendi gets the ball rolling with Dato Foland, who does a great job drooling over the American's big meat before it's up his ass. Maguire fucks Phillipe Gaudin over a windowsill, then returns to take part in a five-man outdoor orgy involving Rick Lautner, Tim Campbell Brian Jovovoch and Marcel Gassion (who takes the bulk of the cock up his mouth and ass). Be sure to check out the 17-minute behindthe-scenes feature, where the interactions between models is hysterical (Maguire and Gaudin are a hoot) and Lukas Ridgeston makes a brief appearance.
Synopsis:
Filled with a lust for sex and adventure best buddies Connor Maguire and Tommy Defendi flee their boring hometown in rural Ohio and set off for the summer to explore Europe. With just the clothes on their back and practically no money they find themselves in Prague where they realize they're going to have to survive on their good looks, charm, and when necessary, their huge cocks, to survive. A stolen wallet, a dead Countess, a stuffed cat, family jewels, and a castle staffed with stunning European men including BelAmi superstars Gino Mosca, and Phillipe Gaudin with Darius Ferdynand, Dato Foland and more all leave Connor and Tommy wondering: "Just who really are the Dirty Rascals?"
close
E-mail this to a friend
Dirty Rascals
Email sent. If you wish to send to another person, click here.