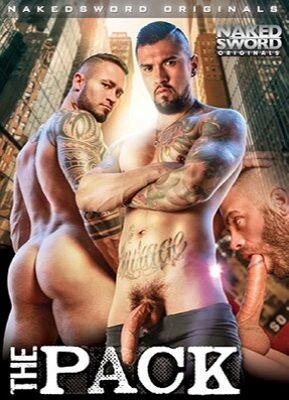 Impressionable Cam Christou arrives in New York searching for himself—and some friends. He's enraptured by "The Pack"—a sort of gay band of brothers/fight club, but with sex instead of fighting. The centerpiece of the film is a live sex show that features five of the cast getting dirty in a nightclub—with Boomer Banks fucking Christou amid other sucking combinations. (More footage of the show is included as an extra, along with behind-the-scenes footage and a Christou solo).

Before the finale, Banks takes charge of tat- tooed jock Seven Dixon, who gets pinned to the floor as he gets fucked; while Leo Forte and Blue Bailey flip fuck in the kitchen. But the best rea- son to see this film is the Marcus Isaacs/Rafael Alencar pairing. The bearded and built Isaacs is the most energetic and charming of the cast, and good lord does he love chowing down on Alencar's massive meat. The lengthy sequence of Isaacs worshipping this beauty—spit falling to the floor, deep-throat sucking that leaves him breathless—is intoxicating. It's like Isaacs can't survive unless he has Alencar's cock deep in his mouth: "Please!

I need it!" begs the stud as Alencar teases him, holding back the sucker's head as his cock pulses in Isaacs' face. A hot fuck followed by a messy open-mouth facial closes out the memorable scene.
Synopsis:
At the daybreak of a new journey, Pony finds himself lost and alone on the concrete isle of Manhattan. On a trek to find his tribe he comes face to face with a crew of arousing young men, The Pack. Led by Gesh, The Pack takes Pony on a ride into a ruined paradise of sex and glamour. With New York's famous Black Party as the stage, Pony is about to be tested by a gauntlet of his new brothers: Pepper, Tank and Gunner. When looking to belong, how far will he go...?