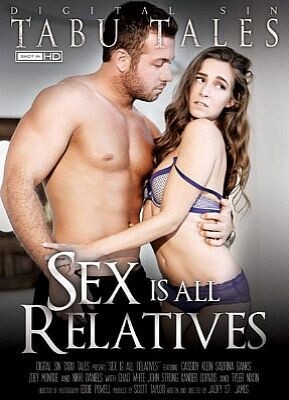 Another excellent Tabu Tales outing from Jacky St. James, outrageous, sassy and sensitive all at once. When Cassidy Klein's big stepbrother Chad White defends her from bullies, she confesses she's hot for him. He jumps right in and starts eating her—the start of a mutually passionate scene in a bathroom. MILF Nikki Daniels has been carrying on an affair with stepson Tyler Nixon. They fuck while her husband is playing golf, but one day he stays home and they have fun hiding it from him. Nikki realizes that the joy of fucking her stepson trumps her marital vows.

Zoey Monroe is pissed off that step-bro Xander Corvus has been reading her diary. He thinks she's kidding when she writes that she wants him to come on her face, but she's not. That is what he wants to do too. She gasps with joy when his cock pops out of his pants. Sabrina Banks takes her problems to her psychologist stepdad John Strong. He encourages her to role-play. They pretend to be strangers meeting in a bar. Their sex talk is really kind of hot. Dad basically seduces her but she really wants it. He actually fucks her to orgasm.
Synopsis:
Xander is shocked to discover that the explicit sexual fantasies written in his stepdaughter's diary, are actually about him. An illicit affair between Nikki and her stepson becomes a source of frustration when her husband's schedule keeps interfering. Aurora's hidden attraction for her step brother reaches a breaking point when he sets out to beat up the guys harassing her at school. After John learns that his stepdaughter's boyfriend is turned on by father/daughter role play, he recommends that the two of them practice together first.