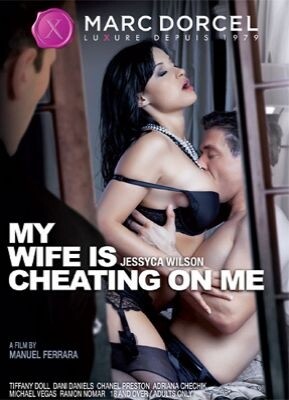 Marc Dorcel visits Los Angeles for this feature helmed by French-born Manuel Ferrara. It's mostly a showcase for French beauty Jessyca Wilson, a gorgeous, well-stacked brunette, who usually works abroad. The movie should really be called "My Wife Won't Do Anal," because that's what it's about.

Manuel tries to talk wife Jessyca into a bit of butt sex but she says she doesn't like it. The she finds a secret collection of DVDs that show him fucking other women. The first girl is Adriana Chechik who sits her butthole on Manuel's condom-sheathed dick and bounces in joy. The scene is all anal. Jessyca gets her revenge by making a video of herself fucking another guy, Mick Blue. The ultimate cut: she lets Mick enter her asshole—and she certainly seems to enjoy it.

When Manuel sees the DVD he's actually delighted to see her taking it in the ass and carts her off to an orgy hosted by Chanel Preston and Ramon Nomar. Chanel does anal with Manuel, who winds up, finally, buttfucking the now anally receptive Jessyca. As in all Dorcel productions the dialogue is dubbed, and Ferrara fans may be surprised to hear a high-pitched American voice issuing from his mouth.
Synopsis:
In a luxurious Los Angeles mansion, Rachel, a gorgeous brunette with incredible breasts, discovers that her husband Rick is regularly playing around, taking beautiful American girls up the arse and filming his sexual exploits. Shocked by the discovery, Rachel decides to take revenge. For the first time, she'll have a man other than her husband take her up the arse. In the video Rachel found, Rick is really taking Monica hard. Having enjoyed his mistress' impressive blow job talents, Rick takes her savagely up the arse in several positions with his big hard cock before covering her in cum. Not knowing how to react, Rachel turns to her friend Claire for advice. A lot more sexually experienced, Claire introduces Rachel to the pleasures of anal sex during a hot lesbian session, with incredible orgasms. Perfectly suited to these kinds of sexual activates, Rachel can fine tune her revenge…