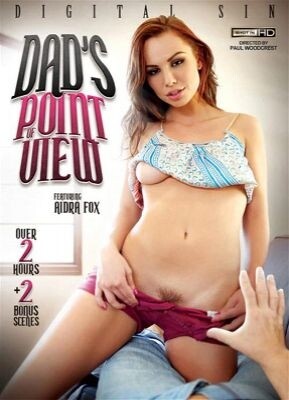 Yes, it's not only one of those tasty stepfather-bangs-stepdaughter movies from Digital Sin, but it's impressively told from the POV of the horny stepdad, who MAY, indeed, be the guy fucking his (on-screen) daughter but, thankfully, is NOT the guy handling the camera (it just looks as if it's him), meaning (hallelujah!) we have full coverage of the sizzling action with a steady—rather than an unacceptably shaky—camera. And while each of the four POV sequences here is great, the very best is with cover beauty Aidra Fox, paired with Evan Stone's 'mystery' cock.

It's true: the Fox/Stone pairing is a positively nuclear scene, from her steamy seductive speech to her silent stepdad (all of the male actors' heads, the big ones, aren't seen, by the way, and their voices aren't heard, except for their inevitable roars or/and grunts when they blast onto their daughters' butts or faces), to Aidra's gagging on cock, followed by her cunt-inhaling of Stone's white serpent. Aidra is, quite simply, one of the most gorgeous porn starlets out there today. There's something both innocent and dirty about her. What a perfect body on this bitch, too. And such a ridiculously cute and unique-looking face!—especially that big mouth with those phenomenal lips. Umpppph! Can't wait until she does anal. Has she done it yet? And Stone, always a competent-to-great actor, actually manages to express his reticence about his stepdaughter's irresistibly seductive personality (and body) with his hands, initially trying to keep Fox away from him, but ultimately succumbing to her wanting to suck 'em…er…suck (and cunt-grind the hell outta!) "daddy."

Actually, Fox is also a great actress, having to deliver all of the dialogue here, which she does exceptionally; and she'll seriously get you totally hot and bothered by just talking to the camera (her stepdad, that is), teasing him with her skimpy clothes, and then descending like a demoness on his prick. Stone really makes her choke on his meat-missile, too, at times wrapping his legs around her neck as she deepthroats him, with Fox making intensely rude and deep gagging/sucking sounds. Fantastic! In fact, the cock-choking and -gurgling is so pronounced, you might find yourself actually laughing out loud, as I did. Wow! Sexy and slapstick at the same time. And Stone really goes cuckoo when he's banging her from behind.

Yes, Carrie Brooks (second hottest to Aidra), Jade Jantzen, and Janice Griffith all put in absolutely terrific sperm-formances that'll arouse the hell out of you, but it's really Aidra who takes the cake—and that includes plenty of frosting, abundantly deposited by Stone upon amazing Aidra's awesome ass. GREAT STUFF!
Synopsis:
It's time to spend a little naughty time with dad! Jade Jantzen, Carrie Brooks, Janice Griffith and Aidra Fox are ready to show their stepdads how much they love and adore them - P.O.V. style! It's dad's lucky day, because these stepdaughters can't wait to get a home cooked serving of cock!