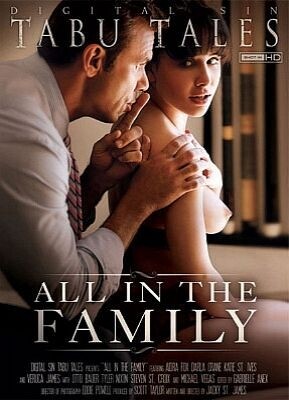 As part of its Tabu Tales series, Digital Sin presents four steamy stories of stepfolks slamming their stepsons/stepdaughters, with a nice surprise being seasoned, big-jugged MILF Darla Crane amongst this tidy harem of hot, young cunt.

Each and every ball in the family here is pretty horny. First off, Otto Bauer (a fairly good actor, actually) turns his spoiled, way-smokin' stepdaughter, Aidra Fox, into "Daddy's girl" when he bangs her atop the pool table when bitchy mom is out shopping. Good deepthroater, that Aidra, too She also digs getting spanked doggie style and, always a good combo, is pretty as well as sexy. Next, straight-laced Michael Vegas fools his slutty stepsister, played by the striking Veruca James, into thinking she's getting balled by some loser DJ friend of hers. "This is really fucked up," she says, when she, literally, takes off her blindfold and sees big brother drooling all over her. "But…I'm down for fucked-up," she (yah!) whorishly adds. It's a good hump session, highlighted by that juicy, puffy pussy on Veruca.

The second half of our por(n)manteau is no less whackworthy. Katie St. Ives starts leaving notes in her stepdad's bathroom drawer like, "Fuck her (as in her mother/his wife) against your bedroom door this morning. I'll be on the other side listening!" Naturally, they eventually get it on, and while St. Ives is no teenybopper, she pulls it off as a supposed ingénue. "I like daddy's dick!" she pants as he doggies her on the sofa. Still got a choice bod, too—St. Ives, not St. Croix. Lastly, Tyler Nixon's stepmom, played by older sexpot Darla Crane, is not only a bad college tutor but she's apparently banging a lot of younger guys. Like 20 of 'em! "And you're not gonna tell (your dad), either," she tells Tyler, immediately before letting him ravage her. There's something downright delicious about her tall and curvaceous figure. Crane provides plenty of awesome eye contact as Tyler has his way with her. Nixon eventually erupts ball batter all over her choice chest. Hot stuff.

"All in the Family" proves that the there's still plenty of heat left in the whole stepfuck genre.
Synopsis:
When life gets in the way, just remember....it's All In The Family. When a woman realizes that tutoring her stepson isn't enough motivation for him to pass his classes, she offers sex as the ultimate incentive. A young woman challenges her stepfather to fulfill her wildest fantasies by leaving him a series of provocative notes, each with their own illicit instructions. After her stepfather becomes frustrated that she's turned his man cave into a make-out location, a young woman comes up with a tempting solution that benefits everyone. A party-going college girl challenges her stepbrother to lead a more adventurous life, only to discover that he's more of a bad boy than she could have ever imagined.