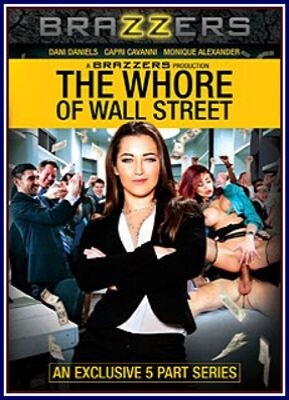 Yes, it's a Brazzers XXX parody of the 2013 Martin Scorcese dark comedy told in five chapters. And seeing as "The Wolf of Wall Street" is almost like a porn parody itself (chronically the decadent personal/professional life of corrupt New York stockbroker Jordan Belfort), it's only natural that the porn world would, in turn, make a parody of Scorcese's racy film. And, trust us, this isn't another lame-ass XXX satire. "The Whore of Wall Street" (WOWS) is well-shot, well-scripted, and filled with both hilarious moments and steamy sex.

Dani Daniels is perfectly cast in the title role, playing a well-dressed executive who's just as much a slut to sex as she is to money. "I fuck about 40 times a week," she narrates to us, "take it in the ass almost every night, and swallow enough semen to fertilize the Sahara Desert."

In Part One, Xander Corvus (playing the Matthew McConaughey/Mark Hanna role) fucks Dani in a restaurant, teaching her the Wall Street ropes. And what a great pair o' cheeks Dani has, too! Part Two shows Dani reaping the benefits of her own highfalutin investment brokerage firm., with Monique Alexander giving up her asshole for $10,000, care of Mick Blue, in front of Dani's firm (a lot smaller than the one in the original movie). It's my own favorite sequence, seeing as Alexander has one smokin' ass herself and knows how to use it.

In the following chapters we have more superlative sucking and fucking. Dani and her delectable girlfriend Capri Cavanni (in the Margot Robbie/Naomi Lapaglia role) get it on before they fuck their thieving manservant (Keiran Lee), who at one point stacks both of these otherworldly bitches on top of one other and hammers 'em doggie style. Dani later seduces two federal agents (Tyler Nixon, Ryan McClane) on her yacht (with some nice slo-mo sucking action), and finally we have the climactic decadent poolside party, with Keiran fucking Dani and Monique, Mick returning to snake Monique, and Xander himself reappearing to once again pork Dani.

Reminiscent of classic X-rated parodies like "The Opening of Misty Beethoven," WOWS has plenty of neat camera angles, loads of tongue-in-cheek humor, and decent acting. Of course, the sex in WOWS is a million times better than any fucking Golden Age of Porn movie. I just wish there were more than only three girls getting laid in this choice mini-epic.
Synopsis:
In the high stakes world of Wall Street, sex is everything. Dani Daniels, a wildly wealthy sexy slut known to many as the whore of Wall Street, learned that lesson her first day at a meeting with Xander Corvus. He let her know that you've got to get off a whole lot if you want to deal with stress of the finance industry. It was that day that Dani Daniels learned the secret to success in finance: get 'em by the balls and don't let go. It was a lesson she took to heart and as the months went by, she never forgot what she learned that day, the way to a man's wallet is through his pants. So now that Dani is an expert at getting laid and getting paid, her latest big deal involves ten thousand dollars, Mick Blue's fat cock, and Monique Alexander's tight little asshole! Dani watches on, dollar signs in her eyes as Mick gives Monique's gorgeous round booty a nice hard anal fucking, pounding that ass until he's ready to blow a fat load all over Monique's pretty smiling face. Another day, another dollar and another satisfied customer for Dani Daniels, the Whore of Wall Street.