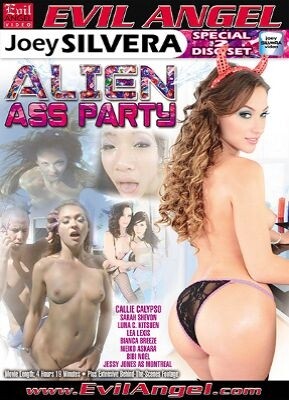 This double-disc gonzo from Joey Silvera/Evil Angel is just as great as the movie's title. Don't worry, though, about the nonsense involving control of aliens (all of whom simply look like highly boneable porn starlets to me) with some buttons (in the form of basic glitter) on one side of their temples. Just focus on the sex, which is positively molten — in each and every fucking scene.

Disc 1 is chockfull of all-out crack attacking. First up, Sarah Shevon is a "professor of assology" on an "intergalactic mission to find black holes." (Yeah, yeah…more goofy alien references.) Shevon sticks it to the incomparable Luna C. Kitsuen, slapping Luna's prominent butt cheeks and sucking her anus. Kitsuen returns the freaky favor, really causing Shevon's shitter to rosebud, with Luna licking it dry. Next, tall drink of water Bianca Breeze and Romanian whore Lea Lexus get majorly drilled by Jessy Jones. It starts with some hot double sucking action on his shaft, with miles upon miles of saliva. "Your cock's so fucking big. It's fucking perfect in my asshole," Bianca later tells butthole-buggerin' Jones, with Breeze never seeming to get enough ATMs, even those outta Lea's Romanian rectum. Jessy returns in the next scene to butt-bang the charismatic and charming Callie Calypso by poolside. "I can feel that cock going deep into my asshole and coming out of my mouth," she coos to him. Now THAT I'd like to see!

Disc 2 is just as awesome. Mr. Pete 'controls' extraterrestrial pussy in the form of Meiko Askara, who's a highly focused cocksucker, magnificently gagging, with oodles of drool, as Petey boy fucks her face for a fairly long time, before pounding her Asian anus (gapes away!) for an even longer time. Lastly, Hungarian hottie Bibi Noel gets humped by (again?!) Mr. Pete. Bibi has such a sexy face, and those huge cocksucking lips … Yee-OWW! She's particularly unforgettable getting ass-fucked in the spoon position. Bibi likes to kiss, too. And she's a fine ATMer. I also love the way she groans and almost purrs as she's getting filled — in pussy, ass, or mouth! Even our director can't resist getting blown by bawdy Bibi.

Party on with "Alien Ass Party"! But be forewarned: After two discs of this superbly salacious Silvera stuff, you'll be so worn out from whacking, you'll call in sick the next day.
Synopsis:
In crazy director Joey Silvera's "Alien Ass Party," hot girls and hard studs control extraterrestrial sex slaves via telepathy! Lovely brunette Sarah Shevon and voluptuous, pierced Luna C. Kitsuen exchange copious spit, deep rim jobs, face sitting, female ejaculation and wicked intestinal prolapse — Luna tongues and sucks the angry, red innards blooming from Sarah's rectum in graphic close-ups. The scene is an hour-long mess! Tall Bianca Breeze's cunt creams stud Jessy Jones' joint, and lithe Lea Lexis laps up the juice. The ladies take side-by-side anal poundings, suck cock ass-to-mouth, and Lea's holes gape. Athletic cutie Callie Calypso buzzes off with her vibrator as Jessy dicks her adorable butt. Twisting, choking, pile-driving sodomy makes her greasy asshole gape. Asian newcummer Meiko Askara takes full-nelson sodomy. European blonde Bibi Noel gets butt-fucked and wetly facialed by Mr. Pete, and she gives Joey a blow job/titty fuck.