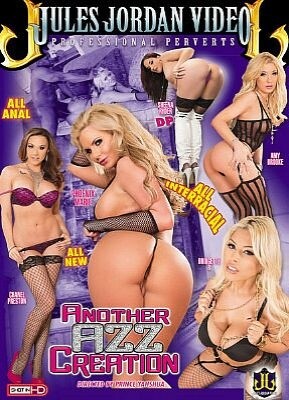 "Another AZZ Creation" (AAC) features hefty-rumped white bitches gettin' their diarrhea ditches filled with layers of black pipe. Highlights? — definitely Phoenix Marie 'n Chanel Preston having chocolate-covered thermometers taking their temperatures (umphhhh!) the old-fashioned way? Do we have yer interest yet, homie?…

Marie's kisser 'n bod still look as fuckable as ever; and there's no exception to the rule in her AAC cornhole scene with salty character Assassin, who shows up at some house, walks in, and proceeds to schtup the living shit outta Ms. Marie. It's a fun-filled scene, with our brotha drilling and grilling her ass (every which fuckin' way!), before spillin' boy-blast upon the lass. Marie, as always, loves it.

The other AAC high point has both attractive and filthy Chanel Preston sashaying beside a huge man-made pond, before The Fresh Prince of Chatsworth (as in Prince Yahshua) emerges from the murk like The Creature from the Black-is-Beautiful Lagoon to feed the fish. There's some nice bj action at lagoon-side before our couple heads inside for more head, after which His Honorable Yahshua bangs Preston's cunt and crapper to the hilt. And with Ms. Preston, you have a rather pretty girl, indeed, whom you'd NEVER imagine doing porn if, say, you met her (fully clothed, of course) at the post office. "Holy fuck!" she utters sundry times as Princey doggies her anus. Hell, I think the slut digs ATMs as much as she enjoys Shaft shit-shafting her doo-doo den.

So, is AAC worth picking up? Well, it's got wall-to-wall major fucking whores with big asses getting reamed by black cock… Er, need we say more?
Synopsis:
Clash of the Titans…Prince vs. Phoenix Marie. "Chanel proves she is a BBC queen. She loves to swallow Prince's cum. "Voluptuous Bridgette B takes a deep Black penetration in her ass. "Anal athlete Amy Brooke wants it big, Black and deep. "Sheena Ryder gets ridden by two big, Black stallions into a DP.