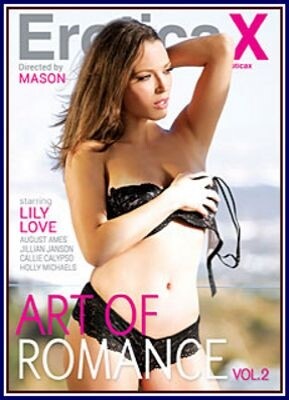 Showing her more sensitive side, director Mason has some of the best-looking starlets in the biz showing us — in this largely couples gonzo — that the word "art" is imbedded in "tart."

Like her Sensual Moments series, "The Art of Romance" has semi-vignettes with merely a skeletal foundation of a plot (if you even want to call it that), giving us a very basic background against which the passionate sex is delivered by, for the most part, extremely gorgeous women. Callie Calypso, for one, is definitely the kind of gal you'd wanna marry. That's how scrumptious this all-natural sweetie is, as she sweatily takes on Tyler Nixon. And it's truly a joy to behold a mainstream-looking babe like Callie getting deeply pumped in the jackhammer position.

The two other ultra babes in AOR 2 include August Ames and Lily Love getting their brains (okay, their cunts) banged silly. In "Meant to Be," Danny apparently has "fucked up" in August's eyes, and he's apologizing to her as best he can. We've no idea exactly what the 'fuck up' was. All we do know is that this strikingly beautiful chick is willing to forgive him in, what looks like a recital room, during a heated porking. "Fantasy Girl" has Seth Gamble mumble a totally indecipherable line to Lily Love — as she's on a balcony overlooking Hollywood — to which she replies "I know." For all we know, Seth could have muttered, "I like making it with rubber duckies." And like both Callie and August, Lily is drop-dead gorgeous, so it's a distinct pleasure witnessing her get the Gamble grind on what looks like a big (hopefully clean) mattress indoors, with the majestic Hollywood skyline behind them.

While "Art of Romance, Volume 2" is surely acceptable for porn hounds (you just canNOT get better than most o' the broads in this title), it's still basically aimed for the couples crowd.
Synopsis:
"Art Of Romance 2" is an intimate portrayal of loving and sensual erotica, directed by the AVN award winning, Mason. Starring Lily Love, Holly Michaels, Jillian Janson, August Ames, and Callie Calypso , "Art Of Romance 2" features stunning visuals, powerfully passionate sex scenes, and unforgettably beautiful locations. The movie is shot in 1080p HD, and brought to you by the AVN award winning, best new studio, Erotica X. Enjoy this latest movie from their burgeoning repertoire of passionate releases."