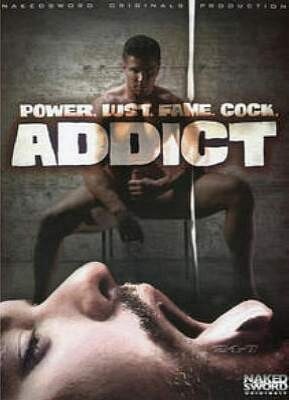 "You don't touch me. I touch you," commands Max Cameron as he eyes Trenton Ducati, hands tied behind him and mouth taped shut. Ducati has the ability to turn us on even when he's helpless, his massive cock throbbing on its own as he gets teased by his tormenter. The two trade sucks before Cameron sits down on the muscle man. Ducati breaks free and takes control, ramming him like a jackrabbit. Their sweaty bodies work themselves into impressive positions, Ducati sitting down on Cameron before they squirt — both loads finger-fed to the top by Ducati. The film is enhanced by its sets and lighting, which set the mood perfectly. And Ducati's real-life struggle with and triumph over addiction gives this scene added meaning, making its themes of control and power all the more effective.

Equally mesmerizing is Leo Forte's scene, the cock slut worshiping some massive meat in the form of Cameron and Drew Sebastian — the two covered in black body suits from head to toe, save for their throbbing cocks. It's an arresting visual watching Forte suck them like a champ, shoving them both in his mouth in some wet, voracious work. The tops take turns stuffing both his holes — a double penetration capping it off. Christian Wilde takes control of Trelio, while Jimmy Durano fucks Connor Kline. A 15-minute behind-the-scenes feature completes the package
Synopsis:
Power! Lust! Fame! Cock! What's it like to lose control? I Nakedsword's Addict, urge goes into overdrive as men push the line between attraction and addiction! With an aesthetic both experimental and groundbreaking! Addict is a sexual dream scape, turning porn's hottest bodies into works of art! Addict is unlike anything you've seen before, and like nothing you'll ever forget. But be careful: when sex is this powerful, it only takes a taste to get hooked!