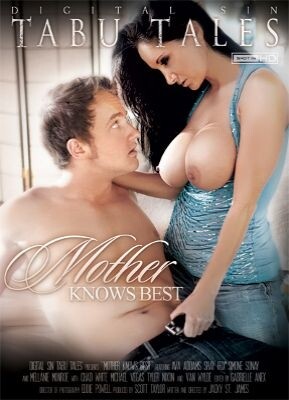 The title of this Digital Sin hybrid gonzo is slightly misleading in that there is no fictionalized incest here. Rather, little scenarios lead to steamy sex between stepmothers and their stepsons. It's all thumbs-up MILF sex, with four slightly older ladies getting banged silly. But "Mother Knows Best" is really worth getting for the best-looking lady of the lot, Ava Addams, and her heated scene with Van Wylde.

Indeed, the best is definitely saved for last, as Ava appears in the movie's final story, "Don't Quit Your Day Job", during which she makes her hooker stepson cater to her 'needs.' The story begins with Ava, in narrative, confessing about "the summer (she) discovered (her) stepson's dirty little secret." The kid is, supposedly, doing odd jobs in the neighborhood to pay for his college tuition. But, when Ava finds a $2,000 check from one of his female 'bosses' made out to her stepson, she decides to confront him. "Who pays $2,000 for yard work?!" she — in pissed-off, very realistic manner — demands of him. "You're not doing yard work. You're hooking!" Playing her stepson, Van Wylde just as convincingly argues with her. But, lucky for us, Ava wins out. "I think it's time you did a little work around the house," Addams tells Wylde before seriously jumping his bones. "You want this just as much as I do," she adds. And we don't BLAME Van Wylde for 'wanting' it.

Addams has such a superior body for an older woman. Sex-wise, she madly rides him in cowgirl and reverse-cowgirl style. There's lots of dick-sucking in-between positions, making for some way energetic antics. And the side profile of Wylde's dick ramming Ava's cunt as she's bent over is choice. Adding a little spice to the proceedings, she enjoys getting her butt cheeks slapped. Addams offers lots of eye contact, too, and a great smile. "Give me your cum. Give me your cum," she longingly whispers to him before he really lets her have it.
Synopsis:
A nude photography project explodes into a sexual affair when a young man asks his stepmother to pose naked for him. After discovering her stepson is working as an escort for neighborhood friends, a horny mother wants to see if he lives up to his reputation. A young man's attempts to avoid his voluptuous stepmother are thwarted by her unyielding determination to seduce him. A woman and her stepson have harbored a secret romantic crush on one another for years, but passion takes over when he gives her a tempting ultimatum.