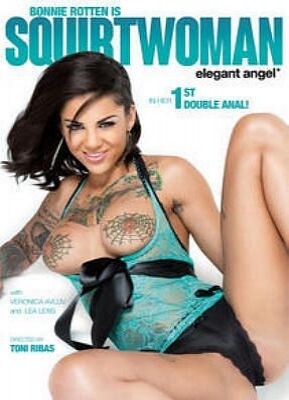 Elegant Angel presents a new Squirtwoman in the form of tattooed, 21-year-old vixen Bonnie Rotten. And whether you believe the gushes produced are ejaculatory juices or otherwise, it doesn't matter. This Toni Ribas-directed title proves that Bonnie is absolutely rotten to the core — and that's most definitely a good thing!

Before the movie's first, full-on opening scene — with sizzling MILF Veronica Avluv —Rotten talks to the camera about the first time she squirted years back, initially thinking she wet her bed. "Squirting is the ultimate orgasm," she then proclaims. "When I squirt, I got into that sexual space where it's the most intense, amazing thing ever." And in her scene with Veronica (a kind of flashback to when her girlfriend taught Bonnie how to squirt), both Rotten and Avluv are pure gushin' machines; when, that is, they aren't sucking cunt and ass, with Avluv actually projecting squirt INTO Rotten's open cunt. Pretty cool.

Then, after Manuel Ferrara gives Squirtwoman's twat 'n' tukus a good workout, bawdy Bonnie takes on Lea Lexis and Karlo Karrera in a dungeon-like setting — in which Lea (with a strap-on) and Karlo double-penetrate Bonnie reverse cowgirl, with plenty of gush-gush-gushin' goin' on — before she takes on the direct-from-Spain, orifice-splittin' team of Ribas and Nomar, during what's definitely the movie's climactic inter-lewd. In a sort of homage to the cult-like, black-robed/white-masked figures in "Eyes Wide Shut," director Ribas has eight such cloaked characters line up, in the same dungeon, to 'worship' Squirtwoman, who's regally seated upon a throne. She squirts on one of 'em, drenching the masochistic bastard, before selecting two lucky fucks (Ribas and Nomar) and "dismissing" the remainder. The boys from Barcelona get Bonnie to, natch, squirt (I sure wouldn't wanna be the clean-up feller on THIS movie), after which she sucks 'em; they anal train her; and they DP her, including Bon-Bon's first double-anal. And — ker-POWIE! — even more blasting juices follow.

Jeepers! This is one MESSY movie.

Loved it.
Synopsis:
Bonnie Rotten Is Squirtwoman! 1st Double Anal With Ramon Nomar And Toni Ribas! AVN's Performer of the Year Bonnie Rotten plays one of porn's most iconic characters in director Toni Ribas 'Bonnie Rotten is Squirtwoman' the first volume in Elegant Angel's eagerly anticipated reboot of its multi-award winning squirt series. Bonnie pulls out the stops for the role, with jaw dropping squirt scenes and her very first double anal!