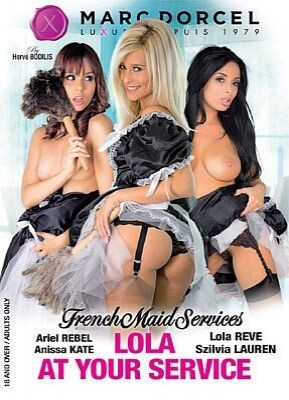 There's no dialogue in this French import, so no need for dubbing or subtitles. All is made clear by what the actors do—and what actors! Three delectable maids: blonde Lola Reve, auburn-haired Ariel Rebel and matchless, busty brunette Anissa Kate. The slightly older Szilvia Lauren is their mistress. When Anissa drops a plant, Madame has a guy, Mike Angelo, come in and fuck them both. Lola and Ariel pick fruit in an orchard, then get a room and make love. Good girl-girl scene.

Szylvia, the mistress, is blowing her boyfriend, Renato, when in comes Lola to help her suck. Lola, who is irresistible, takes it in the ass doggy-style before another guy comes in for a double-penetration. Anissa unpacks groceries in kitchen. The master is turned on. He pours olive oil on her tits and pounds her pussy on the kitchen counter. Finally, Ariel and Mike, the chauffeur, are cleaning Madame's car. In the garage he fucks her doggy as she stands, leaning on the car, then goes into her ass as she reclines on a pile of tires.
Synopsis:
You won't find anyone more obedient than these three stunning French maids wearing their maid's outfits and fine lingerie! Lola, Anissa and Ariel work for a perverted bourgeois couple who live in a lavish luxury villa. Every day, dressed in their maid's outfits and naughty underwear, they have to submit to their bosses' every whim and fantasy. But that doesn't stop them from having fun with each other when they get the chance.