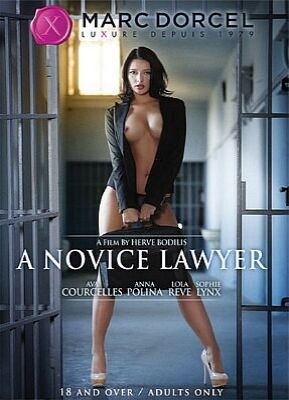 Gorgeous women, glossy surfaces and rough, grungy sex — this Herve Bodilis release has all the usual trademarks of the best Europorn. Anna Polina plays a glamorous young attorney whose client is an imprisoned hardened criminal (played by Euro veteran George Uhl). The storyline is kind of vague and frankly doesn't make much sense, but it provides ample opportunity for sex, much of it anally oriented.

Anna's friend Ava Courcelles takes her along to a party at a nightclub and makes out with a guy in the john. Anna goes to see her client in jail, not wearing panties, and lets him jerk off under the table in the visitor's room, with the help of her foot.

Anna blows boyfriend Vince Carter in her office after hours, and that turns into a full sex scene, with ample anal and a facial. Ava, a voluptuous MILF, takes on four guys in some kind of underground rendezvous. Very hot scene, with anal sex followed by a facial cum bath. Final sex scene has hot blonde Lola Reve fucking Neeo. Anna's client gets beat up in prison, for some reason, end of movie.
Synopsis:
Welcome to a world of power, money, sex and corruption - This young Parisian lawyer doesn't know it yet but by agreeing to defend her new client, she is playing a dangerous game. From prisons filled with criminals to nightclubs run by the underworld, from the luxurious offices of the justice system to the most sordid areas of the capital, the investigation led by beautiful and ambitious Anna pulls you into an incredible world where perversions, dangers and pleasures are constant companions.