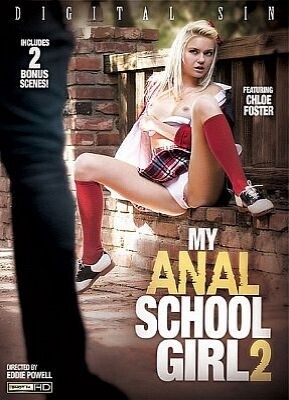 All four young ladies in MAS2 (each wearing cute school-girl outfits, hence the title) deliver memorable butt-fuck scenes in this X-cellent Digital Sin outing, with the very best — in the form of fresh, sweet, beautiful, hot, 'n' nasty Chloe Foster — saved for last.

And, yes, the first three newbies in MAS2 are highly fuckable babes admirably working their wares. Redhead Sadie Kennedy wants to save her virginity, so she has Van Wylde sodomize her, with Kennedy loving every raging inch of it. Roxanne Rae, wearing adorable plastic-framed glasses, almost innocently suggests to boyfriend Erik Everhard, "I have a lot of holes on my body, so maybe we could try a different one. Maybe … my … butt." And it's a joyously meaty butt! She's also a passionate lass who frequently moans (a good thing!) and enjoys ATMs. Blonde Kristen Jordan takes on veteran cornholer Mr. Pete, ultimately cooing to him, "I want to feel your cum in my ass." So, being a chivalrous gent, Pete cream pies her shithole.

The piece de resistance, however, is this DVD's cover girl Chloe Foster. Chloe's parents feel boyfriend Xander Corvus is a bad influence (ya think?!), so they're shipping her to a far-off college. Smart. But as a (cheek-) parting gesture, Chloe offers Corvus her sphincter. "I want you to be the first," she sincerely tells him as they drift off into the woods. Beautiful Foster is the perfect schoolgirl fantasy. She's also an excellent little cocksucker, delivering plenty rude sounds and oodles o' saliva. "Be careful," she eventually whispers, as Corvus slowly sticks his cudgel up her untapped pooper while in the doggie position against a tree. And check out how Foster's eyes get all dreamy as cockmeat floods her anus reverse-cowgirl. Chloe Foster is the best!

Can't wait for the next salacious installment of this well-shot series from director Eddie Powell. Way to go, Eddie baby!
Synopsis:
These young schoolgirls are in for a big surprise, and it's going to bite them in the butt! Chloe Foster, Kristen Jordan, Sadie Kennedy, and Roxanne Rae are ready to get their backdoors schooled by some hard cocks. Join in on the fun, because it's time to get busy with some anal schoolgirls!