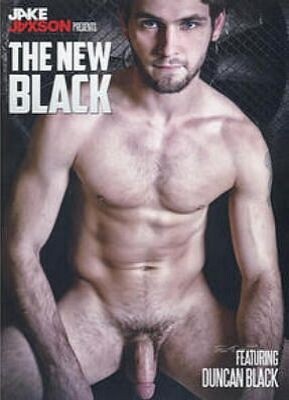 Sexy Duncan Black gets the cover treatment and title homage in this six-scene effort from Cocky Boys auteur Jake Jaxson. The dark-haired hottie opens with fellow aerial performer Cameron, the two discussing their trade before Cameron's huge boner pops out — and into Black's accommodating mouth. Black sits down on the tight-abbed top, who reaches around to stroke the bottom. Black then gets serviced by the top, whose huge throbber grazes his own stomach (!). "I want you to fuck the cum outta me!" demands the bottom, who gets on his back for more.

Blond buds Max Carter and Max Ryder then trade sucks and fucks — the hottest sequence when Carter's hard cock bounces from side to side, slamming each of his legs as he rides his bud. Gabriel Clark distracts Tony from his laptop, thrusting his uncut rocket into both of the bottom's holes — then licking Tony's load up off the table.

Toned and tattooed buds Sonny and Marco show off their big cocks in the shower before some fuck fun, while Jett Black and JD Phoenix play ball outside. Phoenix shows off his killer smile, his smooth jock ass flexing as he slams Black's ass ("You like it deep?"). We also get a solo from Troy, who ups the temperature with all the dirty talk he dishes out as he brags about his big dick.
Synopsis:
With his beautiful blue eyes, clean cut looks & impish grin, Duncan Black is the perfect boy door. But little does everybody know that this perfect is a dynamo bottom in the sack. Joined by Gabriel Clark, Max Ryder & JD Phoenix, The New Black, will surely show you why Duncan is simply irresistible. Enjoy -Jake Jaxson