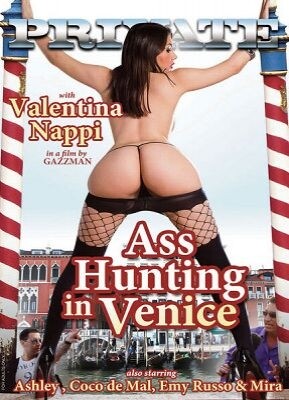 Whenever I see the name "Gazzman" attached to a porn, I know I'm in for a damn good ride filled with beautiful and nasty Euro girls. Gazzman puts together a top-notch batch of European girls in this Private title with anal in nearly every salacious scene. And on top of all o' that, Gazzman provides us with actual, authentic, original footage from Venice, Italy.

All of the scenes generate plenty of heat, but for my money, the two best episode feature Ashley and Valentina Nappi. The basic "storyline" here involves various studs trying to find attractive girls in Venice to model the classic Venetian mask. Ashley volunteers to model the mask for Ian Scott and Marco Banderas, and it's not long before long dicks are probing her highly ac-cum-odating mouth. There are plenty of DPs here, too: doggie and reverse-cowgirl style, even standing. Likewise, Ashley is a great gaper. And, to top it all off, Banderas creampies her ass, while Scott squirts slime up her cunt. Most satisfying. And, of course, you can never go wrong with Valentina Nappi. This time Banderas and other sidekick Jazz Duro con the extremely delectable Valentina to model for them in a very plushly decorated Venetian room. She puts up a fairly realistic bit of resistance, but not offensively so. "You are slut," she endearingly tells both of 'em, turning the tables on our lads.

But it's the still Valentina's sluttiness which, thankfully, shines right through. This sinfully pretty girl offers filthy blowjobs, with Marco and Jazz (while never quite technically DPing her simultaneously) are constantly passing her back and forth, switching holes, fillin' her up... And the horny, seemingly insatiable bitch is just so INTO it! Marry me, Valentina!
Synopsis:
Sometimes you have to be willing to travel to find that perfect piece of ass.