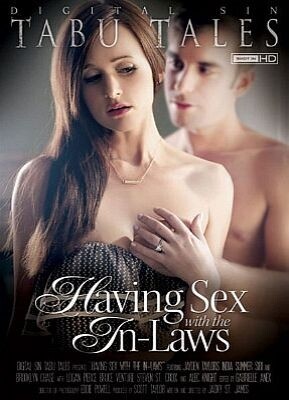 The best thing about Jacky St. James' Tabu Tales, aside from the sexual heat, is its believability. The vignettes are psychologically acute, not just cooked-up storylines, and some have real-people intimacy. None so much as "Fighting the Urge," in which Logan Pierce and sister-in-law Jayden Taylors have "incendiary" feelings for each other and know they must "draw the line or make a move." He tells her, "I want you, you want me, so let's just stop pretending." Lots of passion and chemistry.

In "The Gigantic Obsession" Siri's father-in-law (Alec Knight) keeps ogling her huge tits. She finds his obsession amusing and leads him on. He's so grateful when she lets him suck on them. Things escalate from there. Siri does have amazing boobs and Alec's energetic fucking makes them jiggle.

India Summer has wanted to seduce hunky son-in-law Bruce Venture for some time and finds an opportunity when he's released from prison after a two-year stretch. She jumps his bones aggressively. He resists, but not for long. They come together with a fierce mutual need and unbridled passion. Steven St. Croix is a happily divorced retiree until his son moves in with his stripper wife (Brooklyn Chase). Junior tells Dad not to be judgmental about strippers, but Dad, in fact, likes Brooklyn a lot, and has no compunctions about seducing her.
Synopsis:
Turned on by the power that her gigantic breasts have over men, a young woman sets out to taunt and tease her father-in-law until he can no longer resist the temptation. With his brother away on military duty, a young man's growing infatuation with his sister-in-law comes to a head when he finally reveals his forbidden attraction to her. Just released from prison and sexually frustrated, a young man gets caught in a web of seduction when his horny mother-in-law sets out to make him her next prey. Upon discovering his daughter-in-law works as an exotic dancer a man's perverse fantasies become a reality when he suggests she give him a private lap dance.