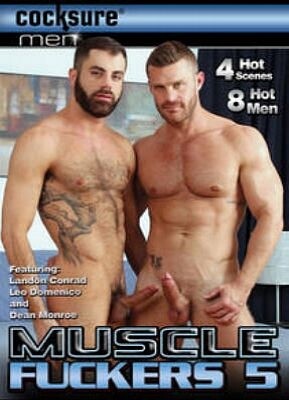 The first half of this four-scene entry is so hot, you might not even make it to Round 2. That's thanks to the scorching connection between the first two pairs, led by dark-haired Leo Domenico sucking face with bearded Brit Dean Monroe.

The two put on quite a display, Monroe kissing all over the stud's body before engulfing his huge cock—which pops out of his Calvin's and into the sub's smiling face. Monroe works it like a champ, opening wide before pulling up the foreskin and nibbling it. Domenico fucks his bud hard before a beautifully delayed multi-gusher covers the bottom, who then releases his own load ("You wanna taste my cum?" asks the top, who feeds Monroe a taste off his fingers).

Muscle man Landon Conrad gets his flexed biceps and pits a good work over by hairy and hungry Marcus Isaacs—who quickly works his way down to the bright-red beast bursting out of Conrad's briefs. Isaacs gets his mouth dick whipped as he sucks, the two then grinding their bods and cocks together before Conrad slips inside the verbal bottom ("Stretch my fucking hole out!"), working up a nice sweat as he fucks.
Synopsis:
4 Hot Scenes! 8 Hot Men! Leo Domenico and Dean Monroe can't keep their hands and lips off each other until they start playing with each others' cocks and frotting. Then, Leo pumps Dean doggy style, Dean rides Leo's cock, and then Dean is on his back with Leo jackhammering away until cum explodes from both guys all over Dean's cock and abs. Landon Conrad and Marcus Issacs make out, then Marcus tongues Landon from his pits down to his cock. Landon pumps his dick into Marcus shoots his load onto his hairy abs. Steve Vex and Darius Soli take a quick shot at the bar and begin to make out. Before long, Darius drops to his knees and deep throats Steve's massive cock. Steve pounds away until Darius shoots his thick load on his abs. Zachary Perry rubs Mark Lopez's cock through his shorts. After more foreplay, Zachary lays faceup on the couch taking Mark's cock deep inside. As Zachary Perry's ass is pounded by Mark's massive cock, he shoots his thick load all over his smooth abs!