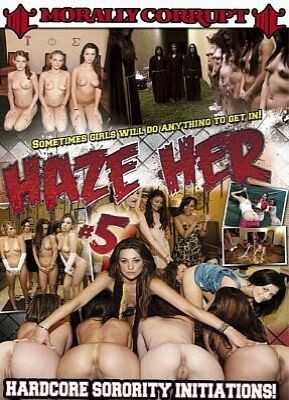 Sometimes girls will do anything to get in! The Road To Sisterhood These sisters put their pledges through some serious shit. At first they had every one of their rushes strip down and crawl under a fence. This was supposed to symbolize their determination to the sorority. Then it was a psychical challenge in which the rushes had to do squats and jumping jack. After they were done with that the sisters had the rushes wash each other with a wet sponge, and this was pretty sweet, there is nothing better than girls rubbing on each other while naked. Once they finished that the rushes had to learn how to please each other with a vibrator and their tongues. Only the most dedicated would make it to sisterhood. Running Drills The tennis team at this school had their rushes out on the courts naked and running drills. if they did a subpar job they would get a drill ran through them, and by drill we mean a big black dildo. The girls had to do naked shuttle runs collect tennis balls from all over the court and after all that they had to make the head sister cum with a big dildo and their tongues. These poor girls had no idea what was in store for them when they signed up for this team. No Love For The Sisterhood In this video you'll see what these girls had to endure in order to be one with the sorority. Stripped down and embarrassed in front of their peers, these girls had to take their measurements and pass final inspection because only the best get accepted, the rest have to go the extra mile. That means one of the sisters strapped up and fucked these rushes like common sex-freaks. There's nothing more sexy than a woman taking control of another. This is what winners are made of. So good job girls keep 'em cumming! Sex Just For Her Haze Her brings you another update of girls being punished then fucked. They want to join the sorority so bad. Well, it takes time for that. These girls had to do chores for the day. Lots of window washing and floor scrubbing before all the fucking starts. Once these girls proved to be strong out came the sex toys and the pussy ramming began. Don't miss out. You'll regret it.
close
E-mail this to a friend
Haze Her 5
Email sent. If you wish to send to another person, click here.