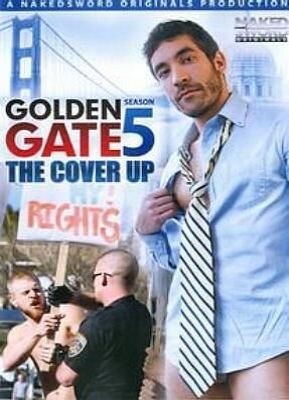 The popular Naked Sword series gets political, its plot revolving around the re-election bid of a District Supervisor (perfectly cast Dale Cooper) who passed a ban on nudity in San Francisco's most liberal area. A protest featuring nudists adds to the authenticity, the four scenes connected by some solid storytelling that incorporates characters from previous series entries. Corrupt cop Caleb Colton uses his authority to take advantage of protestor Logan Stevens, the two scruffy horn dogs flip-fucking in an aggressive outing (watch Stevens' uncut cock graze Colton's hairy chest as he rides him) with a nice facial finish.

Cute JD Phoenix charms his way into Cooper's pants in a scene with great building tension. Austin Wilde blackmails Christian Wilde into bending over. But the most fun is had when handsome Logan Vaughn latches on to burgeoning porn star Tommy Defendi the two suddenly part of a six-man orgy filled with great sucking and atmosphere.
Synopsis:
We Should Have Seen This Coming'! 'A Featu Of Cinematic Versimulitude! Golden Gate 5: The Cover Up takes on San Francisco`s real-life nudity ban, exposes local politicians and most importantly, finally gets to the bottom of Christian Wilde. But Christian`s bottoming is just the cherry on a shoot wild enough to warrant coverage in the San Francisco Chronicle and the Huffington Post. This season, anti-nudity Supervisor Scott Cox (Dale Cooper) tries to clean up the city, only to find that the dirt is on him. From sexy protestors Logan Stevens and JD Phoenix to conniving escort Austin Wilde, the sex is so hot that not even the afternoon fog can cool it down. From a protest at Harvey Milk Plaza to a circle-jerk orgy hosted by Tommy Defendi at the Nob Hill Theater, this is San Francisco sex at its rawest, at its proudest and at it best. See the series that had the whole city talking - and the sex that had it sizzling!