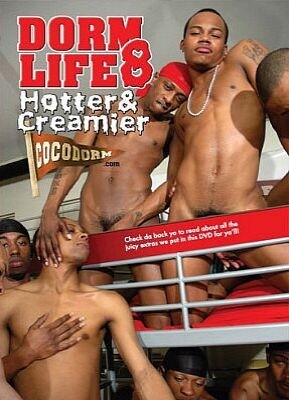 Just when you thought it was safe to go back to the dorms … where most series fizzle by around the third installment, Dorm Life bucks the trend by making film number eight not only a worthy addition to the collection – but hotter than most of the ones that came before it (though can anything top that 9-man orgy from Part 7?). Vito and Pimp start it off with a romantic fuckfest (and brotha, is it HOT to see Pimp bottom again!), and up-and-coming porn legend of the future Breion shows off his usual bionic hips when pounding ass (one of the best topmen in the business). But where DL8 shines is in the casting – this one mixes new faces with familiar dicks and ass, and serves up six mind (and dick) –blowing scenes in the process (including two 6-man orgies!). C. Mack had BEST come back for more work, and Baby Boy and Brent are two of the hottest bottoms/cocksuckers! Ya gotta buy this one, man, with its 2.5-hour running time and wall-to-wall sucking and fucking – all done by the hottest thugs to ever enroll at a college!
close
E-mail this to a friend
Dorm Life 8 Hotter And Creamier
Email sent. If you wish to send to another person, click here.