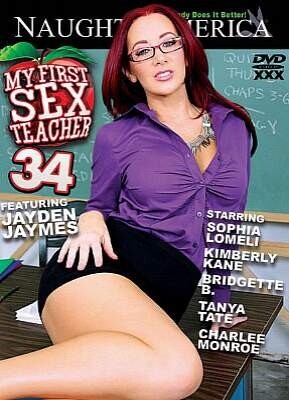 This solid MILF extravaganza from Naughty America features not only steamy performances from some ripe-and-(always) ready veteran sluts, but also gives you a scene with the truly awesome Charlee Monroe (she's a girl, by the way, for those few pornsters who need to stay in—and watch more porn—more often).

All in all, the older women in MFST 34 provide plenty of heat. Firstly, Sophia Lomeli, looking kinda like an older version of Eva Angelina, is blackmailed into having smokin' sex with a college student hanging on to her cell phone, which contains plenty of incriminating suck-and-fuck pix. Best-looking MILF of the bunch Jayden Jaymes let's some bald-headed guy bang her brains out in a very strong MILF-penetrating session. Kimberly Kane? Refusing to mess around, she takes it right up the crap caboose, not even bothering with her pussy. Superb strumpet. But just-as-regular-butt-slut Bridgette B, surprisingly, doesn't take it up the crud cave. Still, it's great watching her get banged doggie style, with those big, pillowy Latina chi-chi's looking, hanging, and swinging as magnificently as ever.

Lastly, it's positively joyous witnessing Charlee Monroe getting laid anywhere, even on a schoolroom desk. Tanya Tate is the older "teacher" here who catches student Charlee getting hammered in a vacant classroom by a fellow (as in "male") student. Now, while Tate might not be the most spectacular MILF, she sure knows how to coach Charlee in the ways of lust. And if you can actually believe that these dyed-in-the-wool tarts are college (or even high school) professors, then your sense of suspending disbelief is far more impressive than mine.
Synopsis:
Education was never quite like this! Staying after class was never so hot!