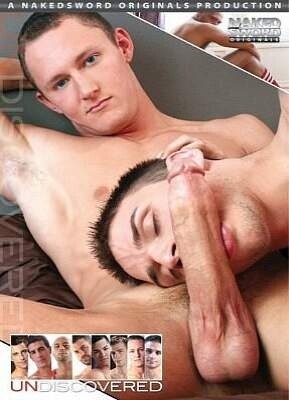 What better way to catch the excitement of new porn studs than capturing their experience documentary style as they arrive, get prepped and get off? mr. Pam enlists seasoned pro Leo Forte to help the guys for the shoot—teaching them the tricks to get the most out of their body and the camera. The models talk to us throughout; it's a laid-back style that makes us feel like part of the team, the sex even hotter because of it.

"Fuck, you got a really nice dick!" exclaims cute Wolfie Blue as he slurps on Tyler Alexander's uncut knob, the two soon fucking each other (including some dildo play that gets Alexander squirting). Another flip fuck follows, as Justin Chase (who sports a big, thick dick that forced him to be more of a bottom because "boys in Michigan don't know how to take big cock") gets it on with Ethan Slade—both shooting memorable loads as Chase gets a facial; more hot cum play awaits at the end of Forte's romp with hairy and handsome Marcus Isaacs. But if there's one lasting image, it's the unforgettable eyes and cock of smooth cutie Trevor Laster (star in the making!), who plows bottom boyfriend Jackson Taylor in an encounter that gets fast and furious before more cum play ends it.
Synopsis:
Sometimes to make it to the top, you have to start at the bottom. Or bottom/vers, at least. Follow eight new guys as they try to break from the porn model pack to become actual stars. In NakedSword's reality-based series Undiscovered, award-winning director Mr. Pam and fetish favorite Leo Forte school the willing models, showing them how to pose, how to create on-screen chemistry and how rock a porn set. Then, it's a master class in fucking. And fuck they do! The boys are handsome, hung and horny as hell - but can they learn the difference between doing it in the bedroom and doing it for the boxcover? Find out with NakedSword's original hit movie Undiscovered.