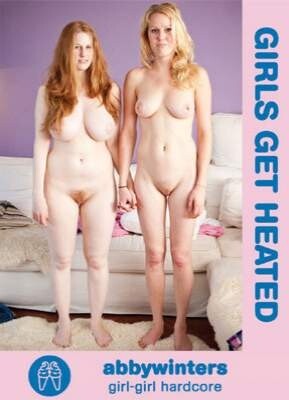 Get ready for this! As a lot of you will know our famous staff member and one of abbywinters.com most prolific models, Chloe B is leaving. But thankfully not without a few departing shoots, this is the first of them and there's a surprise in store for Misha! Kept under wraps for a long time this shoot was a secret from the beginning and one that Misha was kept in the dark about until we were on set. Blindfolded and lead into the room she only knew that she was in for a shoot with a mystery girl, and little did she know Chloe lay in wait! Soon the two are passionately kissing. Misha feeling Chloe's large breast, smooth skin and slim body trying to decipher who it may be. When the blindfold comes off she can hardly contain herself and pounces upon Chloe. From that point on the passion and the sex is elevated to a level only these two could take it, each grabbing handful's (and mouthful's) of the other. Misha pulls on Chloe's red hair as the two scream to orgasm grinding against each others full bush and writhing bodies. A beautiful meeting between Jade and Analyn leads to some sporadic and tentatively sensual girl on girl play. Jades smooth pale body presses up against Analyn's darker body in stunning contrast as they slowly seduce each other. Moving from the steps, to the table they lay illuminated by the vivid greens bursting through the window and wrapping around their entwined naked bodies. Jade treats Analyn with some oral play as she dives into her full bush of pubes. Analyn kisses and runs her lips softly over Jades's body and down to return the favor.
close
E-mail this to a friend
Girls Get Heated
Email sent. If you wish to send to another person, click here.