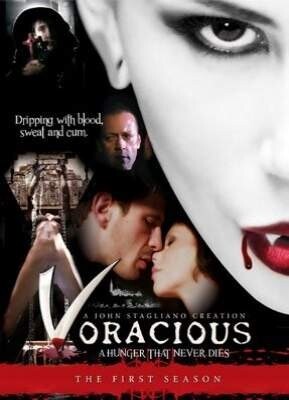 John Stagliano's epic is his most ambitious since "The Fashionistas." Unlike that two-part feature, this is a cable series: ten 30 to 40-minute episodes on two DVDs, with a hint of more to come. It's heavily influenced by recent vampire-themed film and TV productions, yet extremely personal, with hardcore — very hardcore — sex. Fangs and bloody bites are old stuff by now. Stagliano has made the sexual component—often startling in its intensity and heavily laced with S&M — the shocker.

The plot is simple. Brooklyn Lee — in a spectacular performance, emotionally and physically — plays the vampire Amira, who haunts the dreams of journalist Manuel Ferrara. He tracks her down through the underground of Berlin and Budapest with the aid of a creepy, corrupt priest (Steve Holmes) and eventually frees her from the clutches of vampire lords Rocco Siffredi and Omar Galanti. Happy ending — but with a cliffhanger.

It's all impressively shot by Stagliano. Most of the scenes take place in electrically illuminated dark spaces, but the romantic climax unfolds, stunningly, in golden sunlight. Even more impressive is his handling of the sex. The first scene, a fever dream with Manuel, Brooklyn, and a blond vamp (Lea Lexis) is volcanic: anal, face-fucking, power-banging, with Brooklyn giving herself up to the pounding and gaping to the max.

Yet that's exceeded by the third episode featuring the amazing Sandra Romain (great to see her in action again), Brooklyn and two men. It's one of many instances where porn-auteur Stagliano reveals his passion for S&M, with clamps, chains, buttplugs, slapping, gaping, catfighting, and Sandra taking a monster d.p. Brutal, insane, jaw-dropping, and like the rest of this remarkable production, an absolute must-see.
Synopsis:
Under the Victory Column in Berlin, barely hidden from view, a priest offers guidance to a tormented vampire. Manuel arrives in search of Amira, his true love salvation, only to find that perversion and priesthood go hand in hand. Amira's "doubts" about being a vampire are brought to the attention of Vlad. He has just returned from killing a rogue vampire. Our confused Amira knows one thing with the force of all her ex-humanity: she will not give up. Unfortunately, anything that threatens the survival of the vampire clan will be eliminated by Vlad in the most gruesome way.