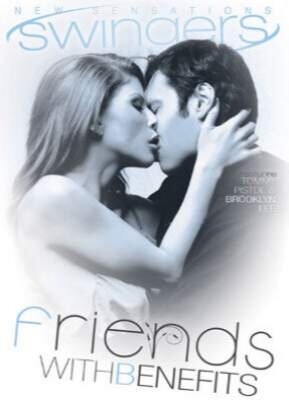 Brooklyn Lee and Tommy Pistol are co-workers and good friends. They get drawn into the swinging scene out of curiosity, cooking up a story about how they're really a couple so they can gain admittance to a private club. They get grilled about their sincerity by head swinger Tony DeSergio, but pass the test. Swinger Steven St. Croix comes on to Brooklyn with the line, "Let the stranger's touch be a pathway to exploring more sensations."

Brooklyn and Tommy befriend other club members, including an alcoholic, Alec Knight, who can't accept his blonde wife, Krissy Lynn, being involved with another woman, tawny siren Skin Diamond. It all ends with Brooklyn and Tommy, after many emotional ups and downs, falling in love with each other in a very intense scene. Brooklyn, as usual, is first-rate, always bringing the heat, especially in her climactic fuck with Tommy, who once again proves himself one of porn's best actors.

Raven Touchstone's screenplay is high on character insight and crisp one-liners, and Paul Thomas gets to stage one of his patented group scenes, with all kinds of sex going on at a club orgy. One thing you take away from this is that swingers always use condoms.
Synopsis:
Having ended their respective relationships, co-workers Alex and Jessica decide to check out a "swingers" party together. However, the intrigue and excitement of this "lifestyle" has rules. They must be together, and although they can play separately, they must be seen as a couple for this group to accept them. Inhibitions as slowly dissolved when they are welcomed into the group. As they share these new experiences together, Alex and Jessica begin to develop feelings for each other that are beyond sexual attraction and could very well be a spark of love.