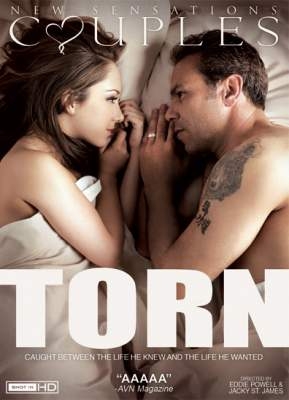 Infidelity is a theme that is, more often than not, handled clumsily in porn. Big studios can't touch the subject without unleashing a barrage of clichés and melodrama, while gonzo houses champion it as either fantasy or fetish.

Enter New Sensations' "Torn," a relationship drama from directing duo Eddie Powell and Jacky St. James that examines adultery from an honest, non-sensational, non-judgmental perspective, while still providing enough boobs and vaginas and penises to satisfy viewer's masturbatory needs.

Drew (Steven St. Croix) is a man who has been married for 20 years to a woman (India Summer) who is independent, smart and beautiful. These are all traits that he once found attractive, but now resents because he's discovered that he needs to be needed and to "be leaned on," something his wife is not prone to do. He also longs to be sexually irresistible to her, regularly attempting to turn her on with impromptu acts of foreplay and gifts of lingerie and sex toys (to disastrous, but humorous results).

Drew is too cowardly to tell his wife how he feels and much too terrified to confront what his feelings could mean. When he meets 25-year-old photographer Mimi (Remy LaCroix), the very pretty niece of his sexually adventurous co-worker Vicki (Raylene), Drew is immediately attracted to her free-spirit charms and all the exciting quirks that girls her age possess. He also likes how she hangs on his every word, and that she's up for sex every minute of the day.

As the affair carries on, Drew remains paralyzed by indecision and guilt, unable to pick one woman over the other. When his wife looks to him for comfort after her father falls ill, he jumps at the chance to be her knight, despite having important plans with Mimi. That moment forces Mimi to reconsider her relationship with Drew, who is devastated by their breakup, but remains unsure about what to do up until Vicki steps in and urges him to be honest with himself and those he claims to love.

In addition to a smart script by St. James, the performers all shine in their roles. La Croix and Summer are seasoned pros, of course, and LaCroix is a true find, a hot little number with acting chops. The film is beautifully shot and scored, allowing for heated, yet sensual, sex scenes, all of which deliver hardcore thrills.
Synopsis:
Drew finds himself at a crossroads in his life. Over time, his long-time marriage has lost its spark, intimacy and most importantly, the connection. Sex has been replaced by friendship. Spontaneity has been replaced by responsibility. Love has been taken over by life. Then one day Mimi, a passionate, young art student, enters his life. Their attraction to one another is immediate. Consumed with guilt at the mere thought of another woman, he recommits himself to his marriage and making it work. However, the connection proves too strong for them both and they slowly delve into an illicit affair. There often comes a time in a person's life when they must choose what is right or what is best. Drew finds himself in that exact circumstance with peoples' lives hanging in the balance. Between facing society's judgment and hurting someone whom he has spent so much of his life with (all for the hope of true happiness and a love he could never have imagined), he finds himself torn.
Copyright © 2023 Adnet Media. All Rights Reserved. XBIZ is a trademark of Adnet Media.
Reproduction in whole or in part in any form or medium without express written permission is prohibited.