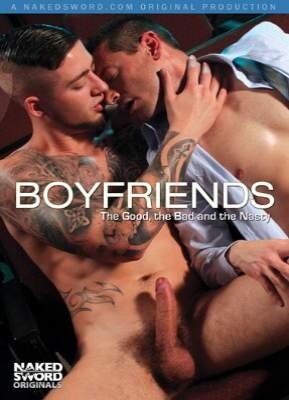 Four episodes chronicle the ups and downs between couples, compiling "the good, the bad & the ugly" referenced in the subtitle. Interviews set up each encounter, and things gets started with the one real-life couple in the cast: smooth cuties Blake Daniels and Blue Bailey, whose sizable boner pops out into his BF's face during a great oral opener. Bailey then rolls his lover's ass up and eats him out before fucking him when you'll realize how big and beautiful the top's balls are, his giant sac getting cozy with Daniels' ass cheeks.

The bottom also gets his big knob polished before getting a facial, a cum-soaked kiss closing it out. Cole Streets helps out porn-obsessed BF Dylan Hyde whose smile and cock are so stunning, you'll be swooning from start to finish (when another facial awaits). Christian Wilde dishes out some angry orders after a fight with Tony Hunter, who takes the abuse like a pro in the kitchen. "Fucking filthy pig!" admonishes Wilde, whose monster schlong is as delicious as ever; Hunter's cock bobs around as he rides it in a memorable sequence. And tattooed bad boy Troy Haydon gets down and dirty with handsome, clean-cut businessman Ari Sylvio whose eyes tear up as he polishes the top's cock before bending over in a naughty theater.
Synopsis:
Settling down doesn`t have to mean settling ... does it? Not in Boyfriends, the acclaimed mini-series from NakedSword Originals. Real-life partners Blue Bailey and Blake Daniels show how hot a little commitment can be. And while not every couple is as lucky in love as them, it doesn`t mean the sex can`t scorch. From make-up sex and porn addicts, to cheaters on the prowl, Boyfriends looks at four cases of modern love and finds ... a lot of old-fashioned lust.