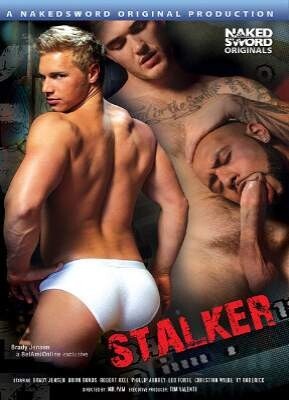 Leo Forte is my hero. The cocksucking skill he displays on the huge meat of trim and tattooed Christian Wilde is so ridiculously hot, it has to be seen, enjoyed and copied by all ardent suckers (and really, aren't we all?!). The muscular Forte is smitten with Wilde's cock, worshipping it and planting his lips to the root in an extended suck that produces so many spit gobs — thick and wet strands that continuously cling from cock to mouth — that you'll be amazed. One hot shot has a gob slowly falling down to Forte's own throbber, the sucker using it as lube. This sequence alone is a keeper, and the smile on Forte's face stays there as he gets fucked.

This four "episode" entry follows model Brady Jensen as he moves to San Francisco — and promptly gets stalked by a mystery man. That might be cute mover Brian Bonds, who works his way inside Brady's underwear in the opening scene. He stays super stiff, his own boner bouncing around as he rides the blond muscle stud — who reaches around and jacks the bottom while also kissing him (now that's multitasking!), a true pause-worthy shot. Jensen also rams Ty Roderick in the closer, while Phillip Aubrey shoves his cock inside Robert Axel (who also gets a yummy facial and keeps on sucking!). A behind-the-scenes clip is also included.
Synopsis:
Brady's dangerously good looking. Emphasis on danger. When Brady Jensen moves to San Francisco for a dream modelling job, all eyes are on him... and then some. Brady explores his new city and some of its hottest men, but can't shake the unseen attention from a relentless stalker who seems to know his every move. Watch as Brady follows a trail of intense sex from the rugged cliffs of Northern California to the seedy bars of SOMA to a dramatic finale that's as thrilling as it is hot. Are you ready for NAKED SWORD's Stalker?