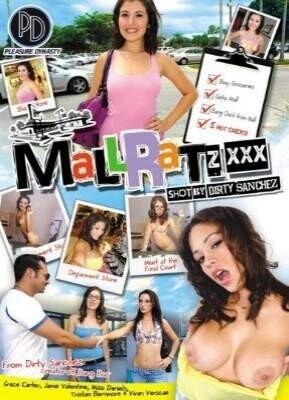 Those who remember director D. Sanchez from his Bang Bus days will be happy to know that the charismatic prankster is still a driving force in reality-based porn. Keeping the tried and true formula he pioneered in the '90s, Sanchez has created an exciting new "pick-up" series for Florida-based upstarts Pleasure Dynasty. "Mall Ratz" finds Sanchez trolling shopping malls across the country for young women willing to perform sex acts for money.

Sanchez and his buddy Levi Cash meet Jamie Valentine at the Topanga Mall in Canoga Park, Calif. Jamie, a pretty Hispanic with a nice legs and big rack, is looking to replace bedding her dog chewed up when she's approached by the guys. After some funny chit-chat, the duo convinces her to fuck in exchange for enough dough to purchase what she needs. Other successful pick-ups include slender babe Grace Carter by a mall movie theater, Tristan at the food court and Missi Daniels on the mall floor.
Synopsis:
Dirty Sanchez picks up some of the hottest Florida professional mall walkers! Shot entirely on location at some mall in Florida.