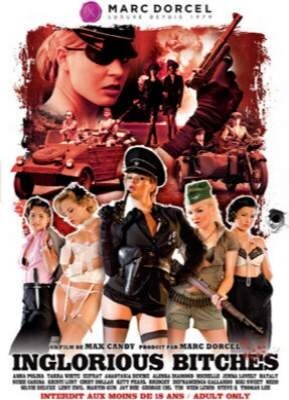 Quentin Tarantino's World War II drama Inglourious Basterds is the inspiration behind European director Max Candy's new pseudo-historical stroker Inglorious Bitches. Budgeted at over $300,000, the Marc Dorcel production stars Tarra White and Anna Polina as vengeance seeking Nazi Germany dissenters who wrangle up an army of whores to carry out an assassination plot against top military officials.

White, channeling Brad Pitt's Aldo Raine, rallies her scantily-clad, top-heavy troops with harsh truths and the promise of a better life. "Before this war, you were nothing but street whores, useless bitches," she barks. "Sooner or later, you'd be found dead and gutted on the very streets that you worked. We brought you here to give you the opportunity of your life."

Of course, White knows that the mission is suicide. The entire plan hinges on the girls keeping the Nazi officers distracted during a massive orgy, while White's hired pilot drops a bomb on their headquarters. But, White and Polina are determined to sacrifice both their lives and that of their crew to avenge the death of an old lover and caregiver, who was murdered just minutes after their threesome by Nazi scum.

Inglorious Bitches has a lot going for it: exotic sets and locations (bunkers, cottages, mansions), mind-blowing props (tank, jeeps, guns, a flame-thrower), authentic wardrobe and makeup, and, of course, beautiful women and hardcore sex. But what makes the film especially enjoyable is that, unlike most American porn parodies, it's not a mindless, pornified scene-for-scene take of its source material. There's a lot of creativity and humor in Inglorious Bitches—possibly enough to justify keeping it next to your copy of Inglourious Basterds and not in the closet, hidden underneath your gym shorts.
Synopsis:
Directed by multi awarded Max Candy, Inglorious Bitches stars an army of renowned beautiful and glamorous girls - Tarra White, Aleska Diamond, Anna Polina, Suzy Carina and Cindy Dollar, amongst others - who ferociously fight for peace. Explosions, tanks, orgies, girl fights… The € 250.000 feature is set in astonishing decors recreating a World War II atmosphere, where two young women (Anna Polina and Tarra White), who saw their lover killed by the enemy, join the résistance and recruit former prostitutes to train to become formidable fighters, experts in arms and charms. Running a brothel frequented by the non-commissioned officers of the enemy, our ladies of the résistance receive strategic information by occupying and preparing a secret operation that could change the course of the war. Orgy scenes with dozens of participants, torrid threesomes, fetishists, uniforms and lesbians: all is here to make a grand movie.