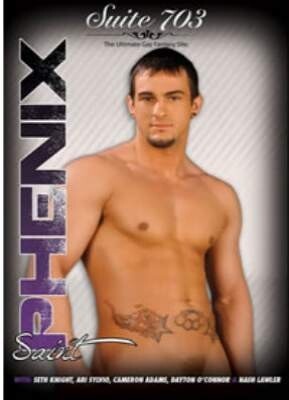 You knew he was destined to be a star. He has "the look" and the attitude, with that goatee and those cum-gutter tattoos beckoning you closer to his big, beautiful (and sometimes pierced) dick. Phenix Saint rocks that "dark and handsome" thing like it's going out of style, which is why Suite 703 saw fit to give him a "greatest hits" collection in his young but highly successful career.

His stroking draws the attention of a nervous but curious Dayton O'Connor (from the "My Brother's Hot Friend" series), the perfect fit for Saint's suggestive pursuer. You can feel their excitement come to life, and will ache to suck Saint's cock right alongside O'Connor. From the same series comes a scene with Ari Sylvio, a cocky Jersey Shore-like stud who talks his way into Saint's pants. As a handyman in "Men Hard at Work," Saint works his power tool deep inside client Cameron Adams; while hotel employee Seth Knight doles out some first-class service in a scene from "I'm a Married Man." The finale has tough-talking wrestler Saint meeting his match in the locker room: rival Nash Lawler, who asserts himself in the only scene where our leading man bottoms.
Synopsis:
Phenix is another 703 member FAVORITE! Throughout his yeas on screen he beefed up from boy to man, attracting everyone who catches a glimpse of his thick, pierced cock. Phenix knows what he wants and get it in every scene.