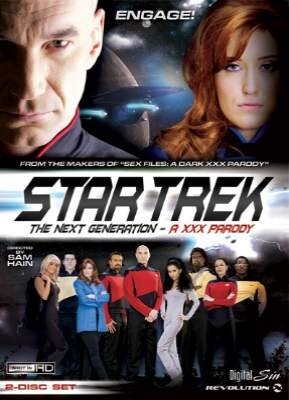 Director Sam Hain's big-budget spoof of Paramount Television's "Star Trek: The Next Generation" is a love letter to you. From its opening Captain's log to the first shot of Jean-Luc Picard (Giles) and the crew of the USS Enterprise-D, it becomes apparent that this ain't another cheap parody. A great amount of research and hard work has gone into producing what is a smartly written, well-acted, authentic looking homage to one of sci-fi's most successful TV series.

The story begins with former chief-of-security Tasha Yar (India Summer), long believed dead (a nod to season one of the show), discovered in cryosleep on a barren planet. She's taken onboard and nursed back to health. The crew, though welcoming, is cautious, aware that she could be a clone sent from the Romulans. Only sentient droid Data (Xander Corvus) is fearless in fucking her (a throwback to fan-fav episode "The Naked Now").

But, Tasha and Data aren't the only ones knocking space boots. Ro Laren (Bobbi Starr) takes a load from Klingon Worf (Lee Bang) on her crinkly face; Counselor Troi (April O'Neil) and Commander Riker (Rocco Reed) utilize the hollodeck for a fun screw; and even Capt. Picard gets a POV BJ from medical officer Beverly Crusher (Kimberly Kane).
Synopsis:
Join Picard (Giles), Riker (Rocco Reed), Crusher (Kimberly Kane), and the rest of the Enterprise crew as they boldly go into the final frontier of adult cinema! While en route to Starbase 112, the Enterprise detects strange electromagnetic readings emanating from a barren Class M planet. Upon further investigation, it is discovered that the source of energy is in fact a box containing Tasha Yar (India Summer), the long dead former Chief of Security of the ship, in cryosleep. Is she the real Tasha Ya? Is she a clone? Or is she something completely different? Follow all of your favorite characters as they engage in the biggest sexual adventure of the 24th century!