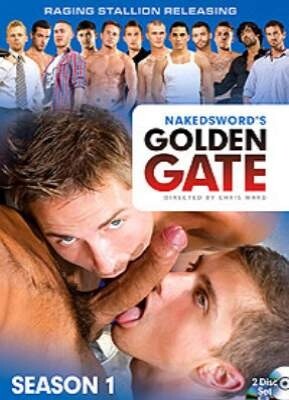 In 2004, Naked Sword teamed up with Jet Set to produce "Wet Palms," the gay porn soap opera that debuted online and helped change the gay porn landscape. Writers Jack Shamama and Michael Stabile — the duo responsible for that award-winning script — return to capture the magic again, this time enlisting Raging Stallion and director Chris Ward for a love poem to San Francisco. "Golden Gate" isn't a continuing story, rather a series of loosely connected vignettes that capture the allure and magic of the city. A narrator sets up the characters and scenarios after an awesome opening title sequence captures a vintage feel.

The Northern California shoreline shares the stage in the fourth scene, where Jeremy Bilding and Trent Locke spice up their relationship with Christian Wilde — whose monster squirt at the end will have you repeatedly rewinding. Day-trader Cameron Marshall cruises online for his first fuck, getting pounded by real-life boyfriend Topher DiMaggio; ridiculously defined D.O. shoves his giant cock (and some dildos) up kind stranger Kennedy Carter's ass; Dayton O'Connor and Rusty Stevens flip fuck after an oral exchange in a gas station bathroom (the shot of a hard O'Connor riding Stevens is fantastic); while rockers Brad Star and Chris Porter give fan Donny Wright an experience he won't forget. The second disc adds five solos and behind-the-scenes clips, which includes some great interviews.
Synopsis:
Stunning stars...savory San Francisco sex! Enter a land of impulse and desire... Handsome men who reside in the same city...but whose lives are varied and different... They may have divergent attractions, but manly sex in common. You'll be wide-eyed and eager with anticipation as you witness chance encounters, blind fate, or divine convergence that forges them together. A massive 2-Disc Set. Disc 1 contains 5 hardcore scenes...2.5 hours. Disc 2 is packed with 5 solos, interviews, trailers, and behind-the-scenes footage.