Simpsons XXX Marge and Homer's Sex Tape
LFP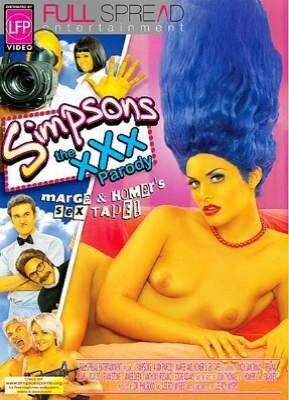 Doh! Looks like Springfield's resident MILF Marge Simpson has got a sex tape. Guess we should have seen it coming after her 2009 pictorial in Playboy magazine. Leaked by husband Homer (in exchange for a donut), the footage finds the horny homemaker letting her beehive down to get some afternoon diddly-delight-a-roony.

Directed by porn-parody prince Lee Roy Myers, this live-action "Simpsons" spoof will have fans of the original laughing till it squirts. Along with its inspired makeup and sprinkling of character catchphrases throughout, the film benefits greatly from its cast's impressive voice work, most notably Andy San Dimas as Marge and James Deen as bar owner Moe.

However, with only three sex scenes, "Simpsons" fans may feel a little shortchanged, especially when considering the magnitude of the Springfield universe. But, hey, kudos go to Myers for including action hero McBain (Evan Stone) in a romp with sexy starlet Briana Blair. Fun stuff.
Synopsis:
There is a scandal in Springfield! Marge and Homer get frisky and film their raunchy romp in the sack! Who is going to see this episode? You are! Finally, the biggest TV stars in the world, from the most popular TV series ever are parodied and pornified in SIMPSONS – THE XXX PARODY! In this live-action sex satire, Homer borrows Flanders video camera and tries to convince Marge to let him glaze her tight pink donut. Mmmmmmm...pink donut. But instead, everybody else in Springfield seems to be getting their shorts eaten, until Marge finally decides to let her blue hair down, and show you and Homer how wet and wild it can get underneath that green dress. Witness sexed-up spoofs of your favorite Springfield characters; Marge, Homer, Cookie Kwan, Moe, McBain, Barney, Flanders, and more! Stars Andy San Dimas as Marge, Anthony Rosano as Homer, James Deen as Moe, Asia Zo as Cookie Kwan, Eddie Adams as both Mendoza and Ned Flanders, Evan Stone as McBain, and Briana Blair as a girl who does the dirty with McBain. Who knew things got so dirty down at 742 Evergreen Terrace?