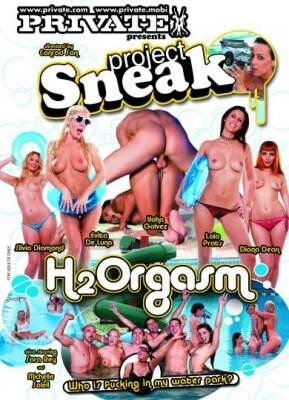 It's pretty easy to feel bad for yourself when you're sitting at home downing Hot Pockets and watching porn. Thankfully, Private Video makes the kind of smut that gives you a glimpse of what it's like to have friends and to, like, do stuff — all without actually having to get off the couch!

Set at a water park in a far-off land some call Europe, "Project Sneak: H2Orgasm" follows a group of wild and attractive young people as they fuck and frolic in pools, on waterslides, in parking lots, and even under water. The action is hard, with lots of squeal-inducing anals, but light in mood and filled with goodtime cheer.

Highlights include Evita De Luna and Laia Prats timing each other as they hold their breath to blow some dude while submerged in a pool, and a very wet Yoha Galvez taking it up her shit locker doggie-style.
Synopsis:
The second voyeuristic release from Project Sneak. Student Sara is asked to infiltrate a group of horny youngsters who keep breaking into a water theme park and film them fucking on the water parks rides. But when the group discovers what Sara is doing they kidnap her and fuck her in the jacuzzi.