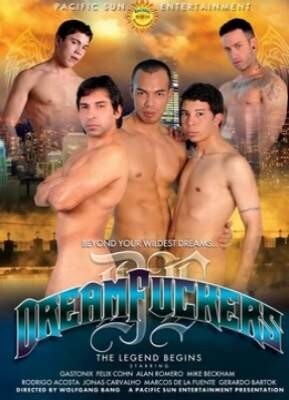 Who knew Wolfgang Bang could be so romantic?! The director best known for his no-holds-barred fisting films shows us a different side in this four-scene foreign effort. Cute Alan Romero drifts to sleep, some intense sex dreams filling his slumber. Up first, tattooed bottom Felix Cohn worships the big slab of trim and tattooed Gastonix through the sliding glass door of a balcony. Soon inside, he offers his holes to the top. Handsome Cohn offers some convincing expressions of pleasure-filled pain as he gets plowed, ending with a hot facial.

Toned jock Jonas Carvalho hovers over Rodrigo Acosta in the bathroom, grabbing hold of the twink's lush dark hair to fuck his face. Acosta then gets fingered before sitting down on the top's pole atop a toilet. Romero then gets lucky in bed, but is his passionate encounter with the dark and chiseled Gerardo Bartok just a dream? Bartok's big sac dangles as he gets fucked, his abs also tightening up as his cries of "Si!" fill the air. Romero returns in the finale, where he finds naked Mike Beckham and Marcos De La Fuente in his living room. De La Fuente sucks both big dicks before bending over, Romero wrapping his arms around the bottom in a hot fuck that ends with another facial. (Don't wake us up, please!)
Synopsis:
Be careful, or you may find out what is beyond your wildest dreams.