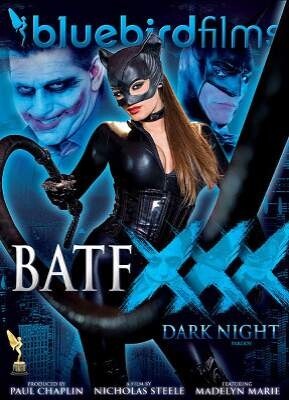 Director Nicholas Steele and Bluebird Films leave an indelible mark on adult cinema history with this remarkable achievement in art direction, cinematography and special effects that add up to one of the most spectacular movies of 2010.

Everything about "Bat FXXX" — from the elaborate set design to the moody lighting, credible fight scenes and six ball-draining orgies — is simply sensational. Just the opening sequence alone in which Jo-kerr — played brilliantly by Bluebird Films owner Paul Chaplin — commands the screen is evidence that this production is something special.

Perennial stud Nick Manning seems at total ease as the suave superhero, wielding an array of flashy gadgets and tossing his cape over his shoulder like he was born to play The Bat. Meanwhile Bluebird exclusive Madelyn Marie is amazingly sexy cracking her bullwhip and spouting one-liners as the iconic sex kitten Katwoman.

Seeing Marie getting railed through her crotchless, black cat suit from numerous camera angles has to be among the most infinitely stroke-able images of the year.

The sheer length of some of the non-sex portions of the movie is impressive, with plenty of dialogue and action unfolding with the most subtle of edits. And unlike many orgies that quickly become a tangled mess, the camera work during these nasty sessions keeps the sexual imagery incredibly hot.

The acting — led by Chaplin's haunting performance as The Bat's insane nemesis — elevates the movie's dramatic tone throughout and cements this XXX experience as an instant classic.

Retail mix: One of 2010's must-see adult movies.
Synopsis:
The overrun, bleak dystopia of Gothard City has one stalwart protector: The Bat. In his iconic cape and cowl, Billionaire Bruce defends the city from the scourge of crime. His greatest weapon: his monster cock. He shows off his fantastic prowess by engaging in a thrilling threesome with Blake & Kristina Rose, who are more than willing to do some quick cum swapping. The Jo-kerr steals Poisen Ivy's latest sex potion to unleash on the unsuspecting population, but not before Ivy (as played by Tory Lane) unleashes her huge tits and takes a scene-stealing rimjob. The Clown Prince of Crime burns a path of destruction; fighting and fucking his way through the underworld. No one is safe from his carnal fury. Bobbi Starr's hairy bush feels the wrath of Jo-kerr's malevolent dick. Cindy Behr gets a poker chip insertion in her pussy. Rio Lee receives a facial to remember. Only the dashing Bat and his trusty assistants Robina (Krissy Lynn) & Bat Chick (Isis Love) can save Gothard's citizens from Jo-kerr's evil scheme. This titanic struggle comes to a head in an earth-shattering 12 person orgy featuring Madelyn Marie in the kinky latex of Katwoman, Brynn Tyler riding the sybian and Isis Love squirting all over the place! The screen can't contain all the hot sex in BATFXXX!