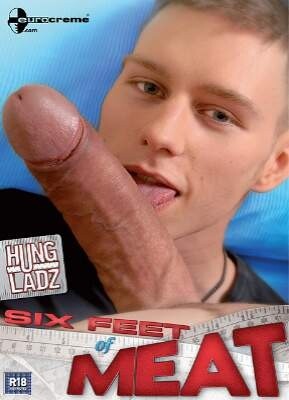 Even if this film had one model, it could keep its title. That's because the cock of twink Steven Prior is so colossal, it's staggering. Huge and super thick with a sweet upward arch, it dwarfs the hand, mouth, head and ass of lucky bastard Andrew Hodges — who tries his hardest to suck it before it rips through his hole. It's one of those scenes where you won't remember many details because you'll be staring in jaw dropped awe just looking at Prior's beast, which is worth the price of admission alone.

Two other scenes excel with their chemistry. The opener with tall Tommy B. brought to his knees by tan and tattooed muscle man Harry Louis — whose big uncut beauty is juicy — is the best of the bunch. The oral exchange is a feast, both men devouring each other as some revealing profile shots accentuate every inch of their pride. The verbal Louis then rams the bottom as flesh-smacking sounds fill the room. Equally engaging are dark-haired Will Jamieson and blond Jordan R., who boast similar big boners. They have a great connection, the high- light coming as Jamieson shows off his strength and stamina by plowing Jordan deep, pinning him to the bed while supporting himself with his muscle arms. The final pairing has dark and handsome Leo Castro plowing curly-haired Ashley Ryder.
Synopsis:
With guys like super stud Will Jamieson, ultimate power bottom Ashley Ryder and donkey-dicked Steven Prior, you already know this Hung Ladz is the hottest so far! Featuring the biggest, meatiest, thickest cocks Eurocreme has to offer, as well as the cutest, hungriest asses around, watch these cute bottom boy twinks take monster meat inside their tiny holes, getting them stretched further than they ever thought possible with Six Feet of Meat!