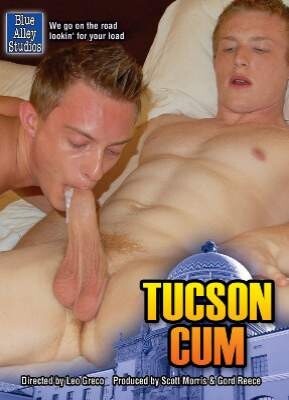 Cute smoothie Holden is ready for a cum-filled weekend in Arizona: "I love sucking cock and eating cum." And after showing off his juicy slab in the opening hot tub solo, he gets down to business with the locals. The first group scene is one of the hottest, with Holden sucking three smooth dudes in his hotel room. It's hot watching the tan and trim dude get closer to the dark-haired, lighter-skinned stud, the two rubbing each other as Holden takes turns on their hot boners. The scene ends with the sucker taking three facials and continuing to suck, and fans of messy fun will be pleased with this all-oral entry.

Another foursome follows, with two cocks really stranding out: a hairy and tan jock sports a handsome shaft, while the geeky glasses dude has monster wood that's impossible to look away from. The three take turns stuffing Holden's mouth, with more cum play in store. Three one-on-one sessions follow, and the finale shines. Holden gets paired with a red-headed hottie sporting a toned muscle bod and a thick, juicy shaft — and a stunning, low-hanging sac caught in beautiful close-ups by the camera. The smooth-skinned stud gets sweatier along the way, moaning with pleasure before dousing our pig host. Who knew Tucson was this filthy?!
Synopsis:
Hot guys getting their jollies.