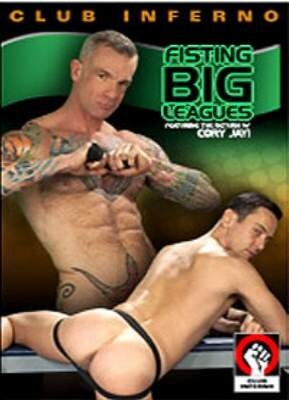 Remember the hot as hell "disappearing pool ball" scene from "Mo' Bigga Butt" in 1997? We thought so. This latest entry in Hot House's heavy ass-play line is notable for the return of fetish hunk Cory Jay, who hasn't appeared in a film for more than a decade. The tattooed, salt-and-pepper muscle hunk looks hotter than ever, and his scene with Rick Van Sant — whose noisy ass takes some fist punching abuse — is impressive. There's something super hot about seeing Jay's built and tattooed forearms get all slick as they twist and grind inside Van Sant's hungry hole, and the veteran's smile gets us equally wet.

Equally amazing is watching cute and trim Jackson Lawless slurp and gag as he deep-throats muscle daddy Hogan Wade's giant cock, a truly mouth-watering slab. The hunk's deep voice and verbal nature take the scene to another level: "All the way down, man! I like that...fuckin' choke on it!" That's followed by a stunning fuck where the top's giant cock disappears in some amazing side shots, his bushy pubes planted on the bottom's butt. Enthusiastic Evan Matthews later begs Andreas Cavalli to fist-fuck him faster, frequently expelling his bright red hole ("Let me show you my rose!"). The locker room encounters are rounded out by the flip-fist session between jock-strapped Claude De Martini and Paul Turner.
Synopsis:
Club Inferno fisting legend Cory Jay returns to show a fresh team of eager handballers how to make it in the Fisting Big Leagues! Jay makes Hot House Exclusive Rick Van Sant's dream come true when he finally gets to meet his life-long hero in this sizzling-hot soon-to-be-fisting classic! Step up and join the Fisting Big Leagues!