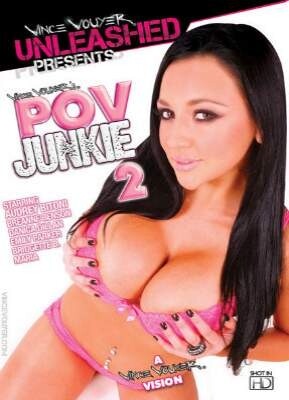 If hot and heavy anal sex defined the first POV Junkie, then big tits and tight pussies are the themes in the excellent follow-up to this new, spank one out series.

Vince Vouyer wastes little time talking up the girls whom he pans slowly up and down on, showing off the amount of flesh about to burst from their tops, before getting them to strip down and show off the rest of their goodies. Audrey Bitoni wastes no time getting down on her knees and sucking off Vince, her eyes looking up at you with such hunger, before Vince pounds away at this olive-skinned goddess.

Breanne Benson just lets Vince have at her, letting Vince take charge and taking everything he's got. Maria and her amazing 36DDs soak up the sun and all of Vince's cum, riding his cock and giving us a view of her luscious heavenly natural tits flopping about. Without ever seeing Vince, we can only just imagine his heart racing while he scopes up and down on Emily Parker and that amazing tight body. This girl sucks Vince off with tons of ferocity, while Vince fucks her with equal amounts of ferociousness before unloading every last drop of jizz to cover her pretty self.

Simply put, Vince Vouyer's POV Junkie 2 is textbook-style POV porn.
Synopsis:
Danica Dillan stops by for a go see before takin' it deep with a facial.