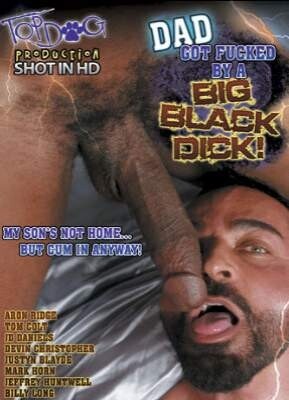 The shameless title, the box cover, the odd couplings...what's not to love in this low-budget interracial effort? Each scene tries to portray black tops as young kids looking for their best friend, only to be distracted by the daddy they've always lusted after. It's good for a laugh, and while some scenes are more successful than others, there's at least one pairing with a sort of "can't look away" appeal (which, from a marketing perspective, is a success).

The hottest scene pairs hung muscle stud Aron Ridge (who has made memorable scenes for top studios) with hairy muscle dad Tom Colt, a tattooed and bearded hunk. The most "mainstream" scene, it ends with a great visual of the two jacking off as Ridge lets out a masculine growl. Also standing out is Justyn Blayde, a shaved-headed hottie with a killer bod and cock (he shows up for his anatomy lesson: "I have all the equipment I needed!"). Bald Billy Long also has a tight bod and a huge dick that he shoves into bear Jeffrey Huntwell, trash talking his way through a sometimes funny fuck ("I'm gonna take $5,000 outta your ass!"). And watch as the huge cock of JD Daniels gets to work on the oldest dad here ("I've always had a crush on you!" is another winning line).
Synopsis:
What happens when your hot black friends come over to visit and you're not home? Well its up to dad to keep them entertained till you get back! Watch our horny DILFs keep those big black dicks warm for you!